Show Your Support: Have you heard of Phoronix Premium? It's what complements advertisements on this site for our premium ad-free service. For less than $4 USD per month, you can help support our site while the funds generated allow us to keep doing Linux hardware reviews, performance benchmarking, maintain our community forums, and much more.
28-Way NVIDIA GeForce GPU Comparison On Ubuntu: From GeForce 8 To GeForce 1080
After finishing up the tests last week for the GeForce GT 1030 Linux review of this $70 USD passively-cooled graphics card, I ended up getting carried away running more NVIDIA Linux benchmarks and ended up making a much larger comparison -- in part for the pre-celebrations with Phoronix turning 13 next week. Here's a 28-way GeForce graphics card comparison on Ubuntu with GPUs ranging from the GeForce 8600/8800 series through the GeForce GTX 1080 Ti.
Out of curiosity sake for the evolution of NVIDIA's raw OpenGL performance as well as the performance-per-Watt / power efficiency, I got carried away in this latest round-up while testing all of these graphics cards on Ubuntu 17.04 with the latest NVIDIA binary drivers.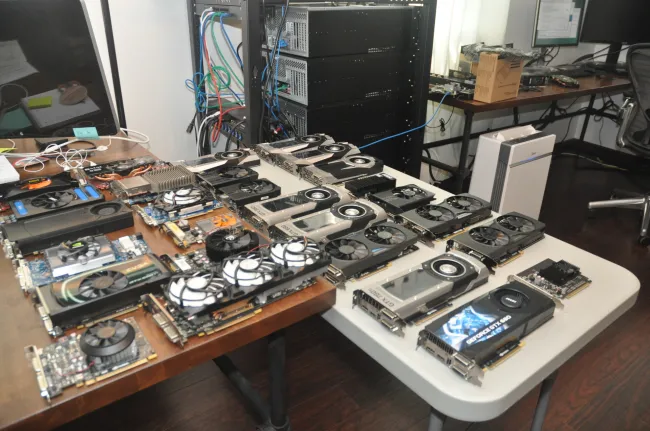 - GeForce 8600GTS
- GeForce 8800GT
- GeForce 9600GSO
- GeForce 9800GT
- GeForce 9800GTX
- GeForce GT 240
- GeForce GTX 460
- GeForce GT 520
- GeForce GTX 550 Ti
- GeForce GT 610
- GeForce GTX 650
- GeForce GTX 680
- GeForce GTX 750
- GeForce GTX 750 Ti
- GeForce GTX 760
- GeForce GTX 780 Ti
- GeForce GTX 950
- GeForce GTX 960
- GeForce GTX 970
- GeForce GTX 980
- GeForce GTX 980 Ti
- GeForce GT 1030
- GeForce GTX 1050
- GeForce GTX 1050 Ti
- GeForce GTX 1060
- GeForce GTX 1070
- GeForce GTX 1080
- GeForce GTX 1080 Ti
The selected of tested cards was based upon what I had available and the cards easily swappable, ignoring the many GPUs racked up in rackmount cases in the benchmarking lab, etc. The Fermi hardware and newer was using the 381.22 Linux driver while the older cards on legacy support were tested via the 340.102 driver.
In order to go back testing the GeForce 8/9 series, most of the benchmarks used were those limited to OpenGL 2/3 while there are a few extra benchmarks included just on the OpenGL 4 Kepler+ graphics cards. Throughout the entire testing process, the AC system power consumption was monitored using a WattsUp Pro power meter. On supported graphics cards, the GPU core temperature was also being monitored for reference. All of this testing and sensor automation was done in a fully-reproducible and standardized manner using the open-source Phoronix Test Suite benchmarking software.
This comparison is quite straight-forward so let's jump straight to the numbers... A similar Radeon comparison will be done shortly among other interesting Linux comparisons in the week ahead for celebrating the Phoronix 13th birthday.