The Latest In Our Massive Linux Benchmarking Setup - November 2017
Two and a half years ago was the start of the continually evolving effort around turning a basement into a big Linux server room and last year having shared a one year redux in the effort but having been late in a second year redux into this effort and how the systems are configured for our Linux/BSD/open-source benchmarking at scale, here is an update.
The setup has mostly remained fundamentally the same, albeit having retired some older and more power hungry systems in recent months with now having the interesting AMD Zen-based platforms for testing as well as Coffee Lake / Kabylake-based systems taking over more spots in the racks.
Compared to how it started out in 2015 before a lot of work... See the aforelinked articles for more background if you are new to Phoronix.
There is a new StarTech 25U rack for accommodating the recent EPYC and Xeon Scalable server additions to the lab. These Tyan servers continue running great! EPYC in particular has been a real joy testing.
Thanks to retiring some of the older systems and the new AMD/Intel hardware boasting nice power efficiency improvements, power consumption is off previous monthly highs of around 3000 kWh while over this summer has been covering around 2100 - 2200 kWh while for the past month it's been closer to 2500 kWh due to all of the EPYC testing and lots of high power GPU testing. Improvements to the Phoronix Test Suite's Phoromatic infrastructure and being more aggressive with its power handling has resulted in systems updating quicker and more aggressive with its power on/off handling.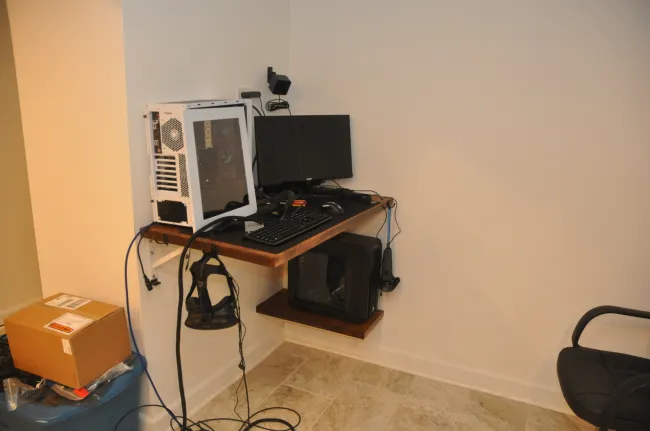 The Linux Steam VR testing station has remained largely the same since its assembly earlier this year for Linux VR testing.
I remain very happy with the StarTech 42U racks and the other StarTech racks as well and have been the best I have found on the low-end side of the cost spectrum.
One of the changes made at the request of the wife is switching away from using painter's tape and a marker for marking the systems and instead having picked up a $15 Dymo label maker makes the job much easier and looks cleaner than my chicken scratch on tape.