Trying Out The Nouveau Driver Rewrite
While Linux 3.7-rc1 hasn't even been released yet as the merge window is still open, the Linux 3.7 kernel is exciting and users of the open-source Nouveau driver will be greeted by the Nouveau DRM driver rewrite / code restructuring. Due to the invasive Nouveau work, some early Nouveau tests under the Linux 3.7 kernel were carried out. The 3.7 results were then compared to the earlier Linux 3.4, 3.5, and 3.6 kernel releases.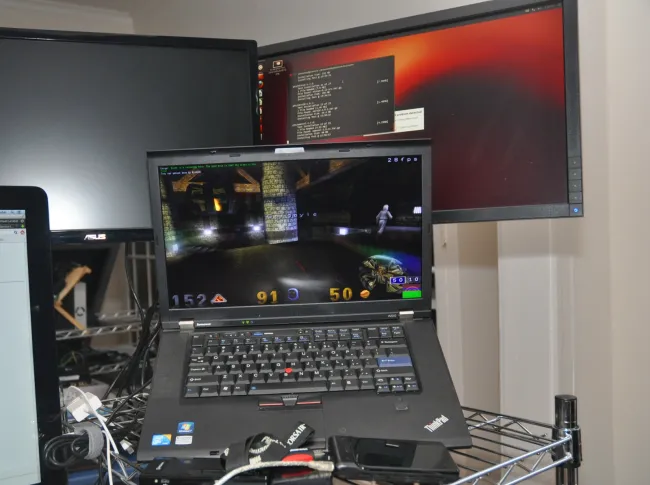 More proper testing will come as the Linux 3.7 kernel final approaches in a number of weeks ahead when more NVIDIA GeForce hardware will be tested, but for this weekend article, some quick Nouveau Linux 3.7 tests were done from a Lenovo ThinkPad W510 with a NVIDIA Quadro FX 880M graphics processor. Trying out the Linux 3.7 Git kernel as of yesterday, 5 October, was done from an Ubuntu 12.10 setup with Mesa 9.0-devel and xf86-video-nouveau 1.0.2. The basic testing was done just to make sure the DRM driver re-write didn't cause anything major to go awry and to see if there were any obvious performance regressions as a result of the code being tossed all about. For more information see The DRM Graphics Pull Goes In For Linux 3.7 Kernel.
Fortunately, there weren't any problems from this Intel laptop with NVIDIA graphics. While this is the only NVIDIA GPU that was tested so far under the Linux 3.7 kernel, so far things look good. There were no stability issues, the performance seems to be in order, and no other apparent regressions compared to Linux 3.6 and earlier kernel versions.
On the following pages are some benchmarks showing the Nouveau DRM driver performance of the Linux 3.4/3.5/3.6/3.7-Git kernels from this setup when running popular OpenGL Linux benchmarks via the Phoronix Test Suite software.