Noctua NH-L9a-AM5 Low-Profile Heatsink Works Great For 2U AMD Ryzen AM5 Servers
The Noctua NH-L9a-AM5 installs by inserting the mounting screws through the back-side of the motherboard's PCB once removing the stock AM5 retention module, if attached. It's a very simple install and the only possible headache can be if having issues aligning the motherboard with the heatsink's mounting holes (given the limited vision), but all-around should just take a few minutes or less to install. It's quite simple to install and does the job.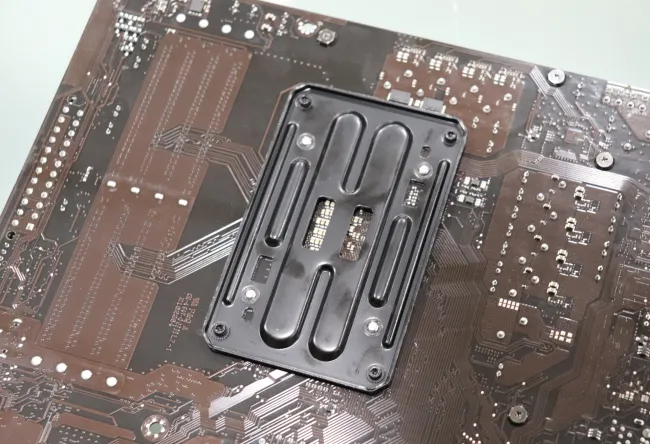 Due to the small size of the Noctua NH-L9a-AM5 heatsink, you shouldn't face any interference with any RAM modules or PCI Express cards. The NH-L9a-AM5 should work fine installing it even on mini-ITX Ryzen 7000 series motherboards.
When Noctua announced the NH-L9a-AM5, of course my immediate interest was using these heatsinks for Ryzen 7600/7700/7900 65 Watt CPU servers within a 2U chassis. With the stock AMD heatsinks for these processors they can fit within 2U height requirements but barely and doesn't provide much space for efficient fan airflow. There's also been a lack of other small heatsinks for the AMD AM5 socket that would work well for 2U (or even 1U) Ryzen servers.
As AM5 motherboards with IPMI and other more server-oriented features come to market and DDR5 prices continue to come down, the AMD Ryzen 7000 series will continue to be more attractive for SOHO servers and the like. For those looking at building a Ryzen 7000 series 2U server or any other HTPC/SFF type build, the Noctua NH-L9a-AM5 is a definite cooling option to consider.
For my tests I ran the NH-L9a-AM5 with the AMD Ryzen 9 7900 processor as the top-end SKU supported by this heatsink. The Ryzen 9 7900 was running with a micro-ATX Gigabyte B650M DX3H heatsink running within a Rosewill 2U server chassis.
For getting an idea as to the cooling performance I compared the performance of the Ryzen 9 7900 to using an AMD Wraith heatsink that just barely fits within 2U height requirements of this chassis while otherwise using the same hardware/software throughout testing. From there I ran hours of benchmarks on the system with each heatsink while monitoring the CPU core temperature along with the peak frequencies being achieved and CPU package power consumption.