Nest Outdoor Security Camera
While I've tested out various indoor WiFi-based security cameras over the past decade on Phoronix, outdoor WiFi cameras have been a different story. Either through my contacts from Phoronix or through my own personal searching, I've never found an outdoor WiFi security camera that I've liked either due to poor build quality, poor video quality / viewing angles, or other issues but most of the time has revolved around not being well-engineered. That has changed with the Nest Cam Outdoor that was announced earlier this year by the Google/Alphabet-owned company while this week it's finally begun shipping to consumers. I certainly like the Nest Cam Outdoor from a hardware perspective, but the software could still use some improvements.
The Nest Cam Outdoor supports 1080p HD video, 130 degree wide-angle viewing, supports 24/7 monitoring and notifications of people, night vision, weatherproof, 8x digital zoom, etc.
The Nest Cam Outdoor also has a built-in microphone and speaker for being able to communicate with anyone near the camera. It's easy via the Nest App to make use of this functionality.
When getting my hands on the Nest Cam Outdoor, I was immediately impressed by the build quality. Similar to Nest's other products, physically the device is very good. There are very strong magnets to allow positioning the camera in limitless combinations, the Nest Cam Outdoor's magnetic mount can be either screwed in to a surface or simply attached to any strong magnetic surface, and the cabling was great.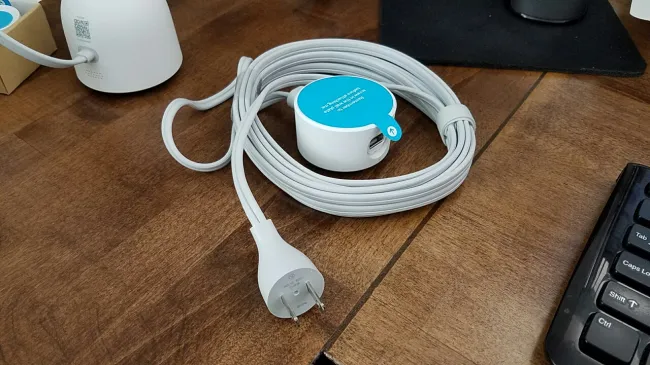 At first I was a bit worried about the Nest Cam Outdoor's power cables with not seeing any picture of it online in advance, but it ended up working out fine. The AC/DC power adapter isn't built directly onto the end of the power connector, so it only occupies just one power outlet and won't block other power connectors from using the same outlet. The cable length is quite long and included is a mount for the power supply as well as for securely attaching the power cable. The power cable is permanently attached to the Nest Cam Outdoor for ensuring it's weatherproof.
Once getting my hands on the Nest Cam Outdoor, I'm fairly confident in its design and is much better than other outdoor WiFi cameras I've looked at in the past due to the attachment design, better power cable, and clearly quite reliable build quality. I haven't yet been able to test it out in a winter snow storm, so check back in a few months and I'll likely post an update.
So initial impressions on the Nest Cam Outdoor were very good, but onto the actual testing and the software side.