Using HDMI Audio/Video On Linux
With the xf86-video-radeonhd driver it defaulted to the proper 1920 x 1200 resolution, although there is no accelerated 2D, 3D, or video playback with the R600/700 series at this time so using it for a media PC will be of little use. The X log showed RadeonHD HDMI audio messages, but still after configuring the adapter it still was flakey on what graphics cards it would output sound. The xf86-video-ati driver had no problems outputting video over HDMI, but this open-source driver currently has no support for HDMI audio. AMD has not published any specifications concerning HDMI support.
Switching over to NVIDIA graphics, a GeForce 8800GT had no issues automatically mode-setting to 1920 x 1080 on the Toshiba Regza LCD HDTV with their binary Linux driver. While some NVIDIA graphics cards have an integrated HDMI connector and others can use HDMI through a DVI adapter, most NVIDIA graphics cards just use a pass-through header on the PCB for connecting then to your motherboard's audio header or a sound card in order to provide any audio support. Support for using HDMI audio through NVIDIA graphics cards was added in the NVIDIA 177.xx driver series but some users are still experiencing problems with recent driver releases.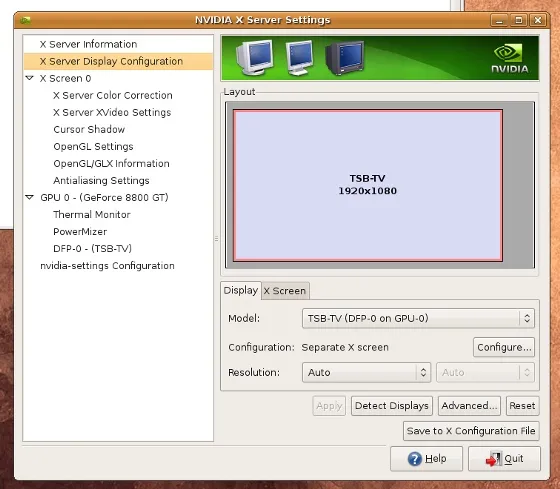 On the Intel side, their newer G43 and G45 chipsets with GMA X4500 series graphics supports HDMI video and audio. The xf86-video-intel driver has supported HDMI video since the new IGPs were first introduced. When it comes to Intel HDMI audio that support was not added until recently. In early November Intel had provided patches that add audio support for Intel G43/G45 Chipsets. These patches have been merged to master in the Intel DDX driver and the ALSA patch was added to the HDA codec driver with ALSA 1.0.18a. When it comes to specifications, Intel has yet to publish its G43/G45 specifications, but they will hopefully be doing that soon.
That about sums up the status of HDMI audio/video support on Linux. HDMI video support is clearly there and you should have no problems displaying video with a recent X Server and Intel, NVIDIA, or ATI/AMD driver. If you are after audio support though, it can work depending upon your specific graphics card, driver, ALSA version and configuration, etc. The HDMI audio support should be more common with Linux users once the next set of distribution updates roll out in H1'09 (such as Fedora 11 and Ubuntu 9.04).
You can share your HDMI Linux experiences in the Phoronix Forums.
If you enjoyed this article consider joining Phoronix Premium to view this site ad-free, multi-page articles on a single page, and other benefits. PayPal or Stripe tips are also graciously accepted. Thanks for your support.