Show Your Support: Did you know that the hundreds of articles written on Phoronix each month are mostly authored by one individual? Phoronix.com doesn't have a whole news room with unlimited resources and relies upon people reading our content without blocking ads and alternatively by people subscribing to Phoronix Premium for our ad-free service with other extra features.
A Walkthrough Of The New 32 System Open-Source Linux Benchmarking Test Farm
This week with the release of Phoronix Test Suite 5.4 we also announced LinuxBenchmarking.com, a collection of 32 systems running various upstream benchmarks on a daily basis in a fully automated manner. The daily upstream benchmarking ranges from the Linux kernel Git to Mesa to Arch/Antergos Linux to LLVM/Clang. Here's a walkthrough of the new lab housing this test farm where hundreds of benchmarks are run daily in looking for performance regressions and other changes with the upstream open-source code.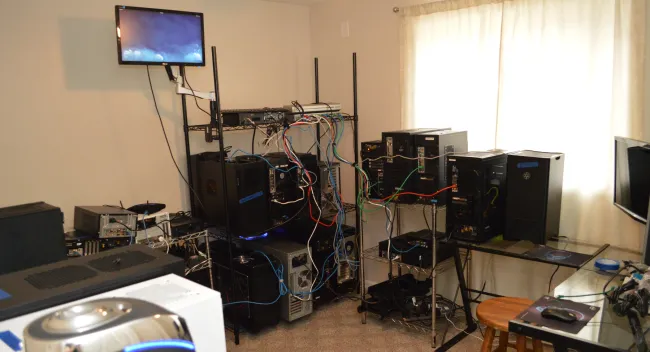 If you haven't already, drop by LinuxBenchmarking.com to learn about this 32 Linux system benchmarking farm, etc. It's all powered by the Phoronix Test Suite, OpenBenchmarking.org, and Phoromatic. All of the necessary code for this deployment is open-source (GPLv3) via the Phoronix Test Suite on GitHub.
In needing to run all 32 systems off one power circuit, the various test schedules mentioned at LinuxBenchmarking.com are spread across the day and run every day -- the Phoromatic web UI allows for scheduling of test events whenever you want or on an externally triggered basis -- e.g. triggered whenever a new Git commit occurs or some other arbitrary event. When each system is done testing, it's powered off automatically. Likewise, when a system needs a test to run, it's automatically powered up via network Wake-On-LAN events -- the Phoromatic Server takes care of automatically managing the IP and MAC addresses so everything is managed seamlessly. So far I haven't run into any power issues with this array of 32 systems nor any thermal issues.
Each system with a GPU and in need of an X.Org Server for graphics tests is configured to use a virtual screen, but when any system issues do occur, there's three monitors within the test farm room for taking care of issues that can't be resolved easily via SSH. With this monitor. it's connected to the rack via the SilverStone ARM11SC mount.
Another two LCD displays are in the server room with a soon-to-be-reviewed Arctic monitor stand.
A 48 port Asante networking switch handles most of the systems.