Intel Haswell Linux OpenGL Driver Catching Up To The Intel Windows Driver
Past Intel Windows vs. Linux graphics driver benchmarks have shown that for Haswell the OpenGL performance on Linux generally comes up short of the proprietary Windows driver. Fortunately, the Intel open-source Linux driver improved a lot this year and is now more competitive to the Windows driver.
My latest end-of-year testing was comparing the Intel Linux graphics performance over the past year to Microsoft Windows with the latest proprietary driver (v10.18.10.3960).
Windows 7 Pro x64 with all available updates was used over Windows 8.1 this time as on the particular test system used, the clean install of Windows 8 kept resulting in BSODs within a few minutes of booting, even after carrying out a second clean install on the system. Windows 7 meanwhile worked without any issues on this particular system.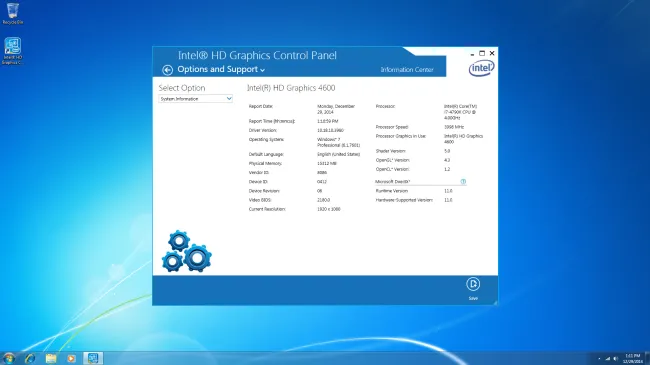 The configurations tested for this article included:
- Ubuntu 13.10 out-of-the-box to show the state of the Intel Haswell Linux performance at the end of last year. Ubuntu 13.10 shipped with the Linux 3.11 kernel and Mesa 9.2.
- A clean install of Ubuntu 14.10 Utopic Unicorn, the latest Ubuntu Linux release. By default it shipped with the Linux 3.16 kernel and Mesa 10.4.
- Lastly on the Linux side was the Ubuntu 14.10 installation upgraded to the Linux 3.18 kernel and Mesa 10.5-devel Git.
- Windows 7 Pro with all available system updates and running the Intel 10.18.10.3960 graphics driver.
All of these Intel Windows vs. Linux tests were done using the same Intel Core i7 4790K with the same CPU settings throughout testing. The i7-4790K Haswell CPU offers Intel HD Graphics 4600. The system also had 16GB of DDR3 memory, and 64GB OCZ Agility SSD.
The benchmarks under Windows and Linux were all carried out in a fully-automated manner using the open-source Phoronix Test Suite benchmarking software. The OpenGL tests used were ones that met our requirements for test automation and reproducibility while offering similar level of quality for the Linux and Windows binaries.