Intel Gallium3D For Mesa 8.0
With the Mesa 8.0 release right around the corner, in recent weeks there have been a number of benchmarks on Phoronix looking at this latest open-source OpenGL library and its drivers, including Gallium3D. In this article though are new benchmarks from one of the areas not explored yet: the Intel Gallium3D driver performance.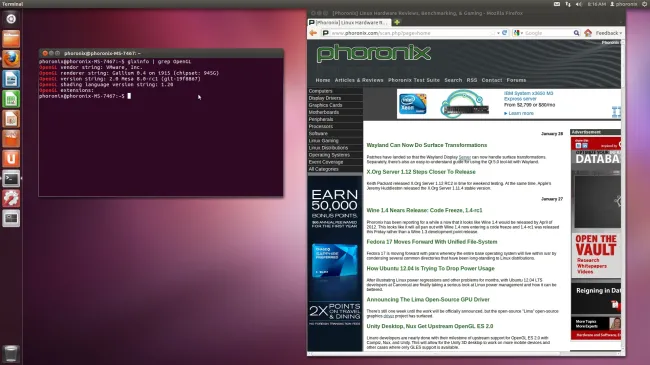 With Mesa 8.0, Intel is still only backing their official i915 and i965 "classic" DRI drivers, which support from the i915 series through the current-generation Sandy Bridge and next-generation Ivy Bridge hardware. Existing for years though has been the i915 Gallium3D driver, which began as a project by the VMware (Tungsten Graphics) developers and then last year was worked on by Google's Chrome/Chromium OS team.
Google liked the i915 Gallium3D driver better than the i915 classic DRI driver for their purposes, so they made some significant improvements. The i915 Gallium3D driver supports up through the i945 series, but not the i965 hardware or newer. There was an Intel Gallium3D i965 driver that fell into a defunct state and was since removed from the Mesa code-base. Now with the imminent release of Mesa 8.0, let's see how the performance of the i915 classic and i915 Gallium3D drivers compare.
The Intel integrated graphics being used for testing was an i945G found on a motherboard paired with an Intel Atom 330 within an MSI Nettop.
Via the Phoronix Test Suite a variety of benchmarks were run. The operating system was an Ubuntu 12.04 LTS development snapshot with the Linux 3.2 mainline kernel, X.Org Server 1.11.3, and the xf86-video-intel DDX Git. The only change between the classic DRI and Gallium3D tests was rebuilding Mesa from the same Git revision (19f8867) on the Mesa 8.0 branch.