A Few Windows 10 vs. Ubuntu Linux OpenGL Benchmarks With A Core i7 7700K
This week I've published Windows 10 vs. Linux NVIDIA gaming benchmarks and a Radeon Software Windows 10 vs. RadeonSI/RADV Linux comparison with a variety of interesting games. For this third article on the topic of Windows 10 vs. Linux performance are a few Intel HD Graphics 630 benchmark results.
This article is much more brief than the larger Radeon and NVIDIA comparisons. Here we are just looking at the OpenGL performance in a few lighter games that run well on Intel HD Graphics on both operating systems and can be done so in an automated manner via the Phoronix Test Suite. All of these tests are using OpenGL on both platforms.
The hardware used throughout testing included an Intel Core i7 7700K CPU with HD Graphics 630 (Kabylake GT2), Samsung 950 PRO 256GB NVMe SSD, MSI Z270-A PRO motherboard, 2 x 8GB DDR4-3200 memory, and Acer B286HK. All tests were done at 1080p.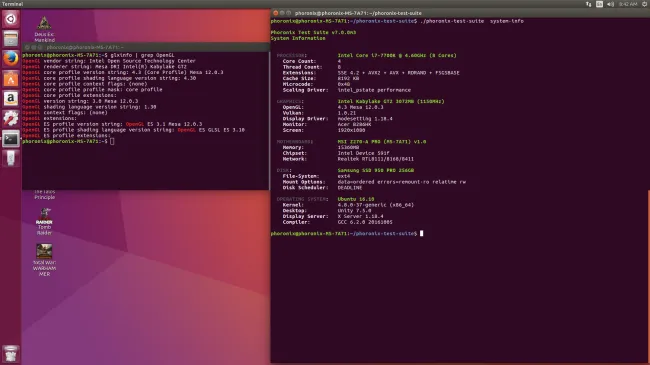 Windows 10 Pro x64 was tested with all available updates as of this past week and was using the Intel 21.20.16.4590 driver. For the Ubuntu 16.10 x86_64 testing it too had all available updates as of last week and was running with the Linux 4.8 kernel, Unity 7.5, Mesa 12.0.3, and X.Org Server 1.18.4. An additional Ubuntu 16.10 run was performed when upgrading to the Linux 4.10 Git kernel and using the Padoka PPA to switch over to using Mesa 17.1-dev.