Show Your Support: Did you know that the hundreds of articles written on Phoronix each month are mostly authored by one individual? Phoronix.com doesn't have a whole news room with unlimited resources and relies upon people reading our content without blocking ads and alternatively by people subscribing to Phoronix Premium for our ad-free service with other extra features.
Intel Architecture Day 2021 & The Linux State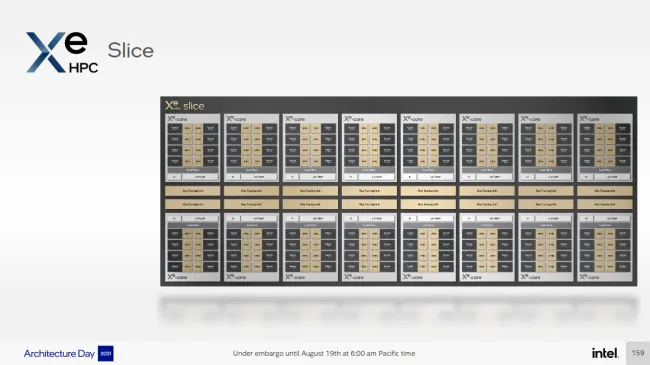 Xe HPC and Ponte Vecchio also was covered at this year's Architecture Day.
Ponte Vecchio has more than 100 billion transistors, 47 active tiles, and makes use of five different process nodes. Ponte Vecchio has eight Xe cores per compute tile, 4MB of L1 cache per tile, and is built on a TSMC N5 process for the compute tiles and leverages their Foveros technology. Ponte Vecchio's base tile meanwhile is built on an Intel 7 process and has a 144MB L2 cache with HBM2e and supports PCI Express Gen5.
One of the new interesting technologies for Xe HPC is Xe Link as a high-speed coherent unified fabric. Xe Link supports up to eight fully connected GPUs through an embedded switch.
Ponte Vecchio in its early (A0 silicon) form is seeing greater than 45 TFLOPS of FP32 throughput, greater than 5 TBps of memory fabric bandwidth, and greater than 2 TBps of connectivity bandwidth. Intel is planning on having Ponte Vecchio ready for HPC and AI markets in 2022.
As with the rest of Intel's graphics landscape, Xe HPC continues to be supported under Linux via a fully open-source driver stack with all those mainline components still coming together for Xe HPC. In user-space there is Intel's excellent oneAPI open-source software stack that continues seeing significant industry interest and adoption.
If you enjoyed this article consider joining Phoronix Premium to view this site ad-free, multi-page articles on a single page, and other benefits. PayPal or Stripe tips are also graciously accepted. Thanks for your support.