Intel Architecture Day 2021 & The Linux State
Intel ARC with the Alchemist / DG2 SoC was also covered during the Intel Architecture Day 2021.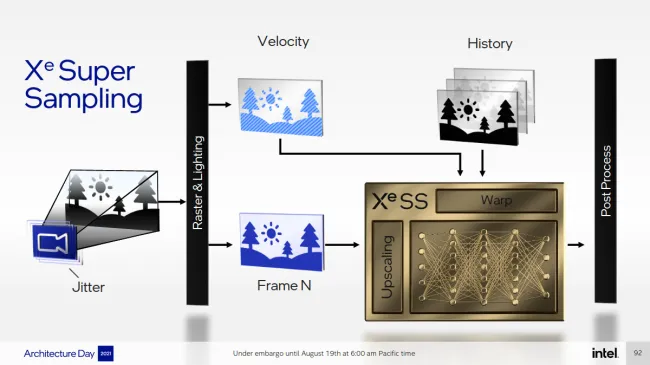 One of the new bits on the Intel graphics software front is the company working on Xe Super Sampling as their alternative to NVIDIA DLSS and AMD FidelityFX Super Resolution. Intel will be releasing a XeSS (Xe Super Sampling) SDK this month so will be interesting then to learn more about it and the Linux support.
Xe HPG for Alchemist (DG2) ARC graphics was confirmed to have four Xe cores with XMX and four ray-tracing units. Intel has been working on Xe HPG / DG2 support on Linux already, including preparations around Vulkan ray-tracing with their open-source driver. it remains a work-in-progress but at least Intel has already been making enablement code public and will be squared up in the months ahead.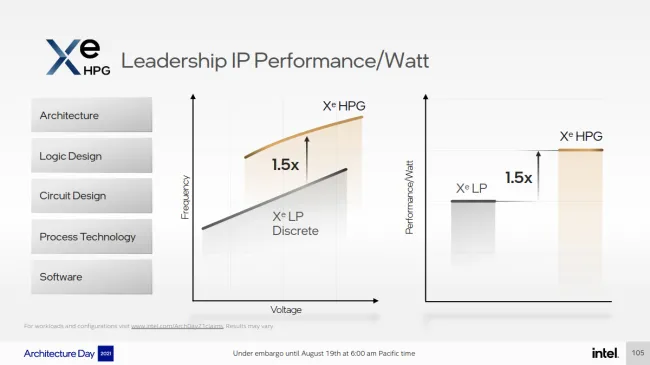 Intel is reporting Xe HPG to offer 1.5x greater performance-per-Watt over Xe LP discrete graphics but sadly no comparison to AMD Radeon or NVIDIA GeForce graphics cards. Intel also confirmed Xe HPG / Alchemist is making use of TSMC N6 for manufacturing.
As announced earlier this week, Alchemist is due out in Q1'2022 and Intel has also confirmed the codenames for its successors: Battlemage, Celestial, and Druid. Battlemage and Celestial will be iterations of Xe HPG while Druid will be on the "Xe Next Architecture".