Show Your Support: Did you know that the hundreds of articles written on Phoronix each month are mostly authored by one individual? Phoronix.com doesn't have a whole news room with unlimited resources and relies upon people reading our content without blocking ads and alternatively by people subscribing to Phoronix Premium for our ad-free service with other extra features.
Gigabyte X399 AORUS Gaming 7 Works As A Linux-Friendly Threadripper Motherboard
For the past few weeks that I have been testing the AMD Threadripper 1950X on Linux, I have been using the Gigabyte X399 AORUS Gaming 7 motherboard. Overall, it's been a pleasant experience and is running fine under Linux. Here's a quick summary.
The X399 AORUS Gaming 7 for AMD Threadripper processors is quite a competent board. This AMD X399 motherboard features three M.2 slots, Realtek ALC1220 audio, Killer E2500 networking, USB 3.1 Gen2 Type-C connectivity, Intel 802.11ac WiFi and Bluetooth, UEFI DualBIOS, server-level power chokes, and other high-end motherboard features.
There is also RGB Fusion with digital LEDs and other lighting features for those interested. Though that is something that isn't supported under Linux so unless some reverse engineering takes place, you are left with the default lighting behavior of this motherboard.
Details on the X399 AORUS Gaming 7 can be found at Gigabyte.com.
Most of my Threadripper testing so far has been with Ubuntu 17.04, Ubuntu 17.10 daily snapshots, and Fedora 26. Overall the experience has been pleasant and the Gigabyte X399 AORUS Gaming 7 should work out fine as long as you are on a recent distribution/kernel, particularly for functionality like the ALC1120 audio, etc.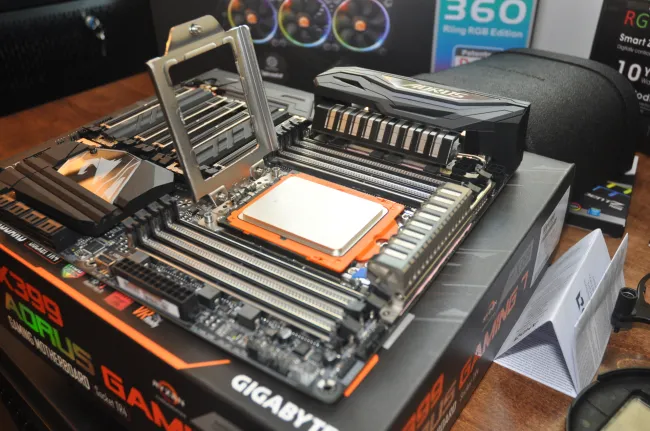 With Ubuntu 17.04 I have all of the key functionality working including the onboard WiFi and sensors. When running LM_Sensors' sensors-detect, no motherboard sensors were detected. But when manually loading the i87 kernel module, it was correctly reporting sensors for various line voltages, fan speeds, and system temperatures.
This is the first X399 motherboard I have tested to date for Threadripper, so you can find benchmarks with this Gigabyte motherboard in my numerous Threadripper Linux benchmarks so far.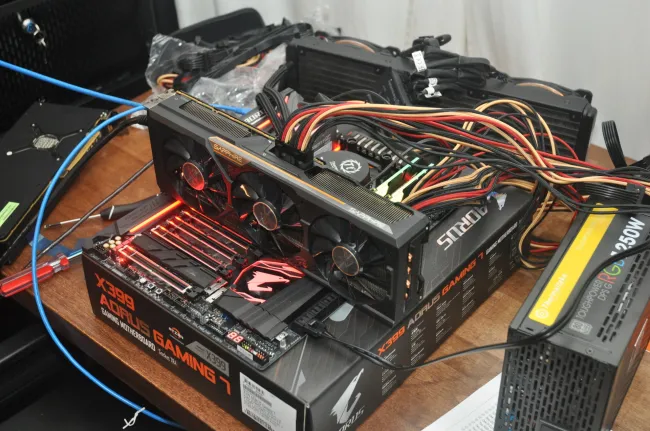 Overall I am content with this Threadripper motherboard so far and it's running great under Linux. Though like the entire X399 motherboard lineup, their prices are on the higher-end and with this X399 AORUS Gaming 7 will set you back about $390 USD from the likes of Amazon and NewEgg.
If you enjoyed this article consider joining Phoronix Premium to view this site ad-free, multi-page articles on a single page, and other benefits. PayPal or Stripe tips are also graciously accepted. Thanks for your support.