A Look Through Fedora 16 Alpha
In Fedora 16 Alpha is the Linux 3.0 kernel, Mesa 7.11-devel (not yet Mesa 7.12-devel or even Mesa 7.11.0 final), and an X.Org Server 1.11 snapshot (xorg-server 1.10.99.1). Other notable package updates include Blender 2.5, D2 and ADA programming support, GHC 7.0.4, PERL 5.14, SPICE 0.10, and TigerVNC 1.1.
As usual, there is a host of virtualization improvements in Fedora 16. Among the new virtualization features in Fedora 16 are the integration of Condor Cloud, Aeolus Conductor, HekaFS/CloudFS, Pacemaker-Cloud, SPICE 0.10, USB network redirection, a virtual machine lock manager, virt-manager guest inspection, virt-sandbox, and Xen Pvops Dom0 support.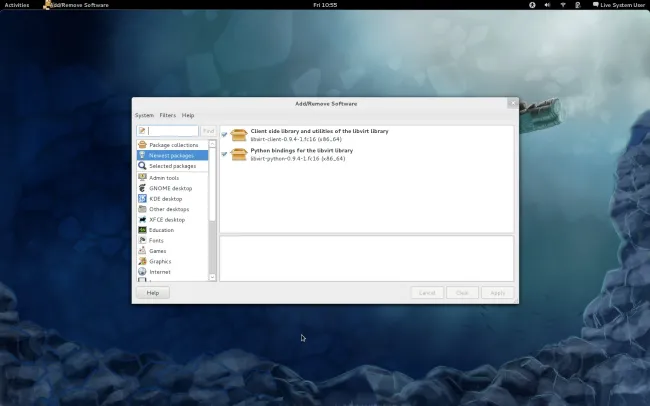 Unlike Ubuntu, not much is going on within Fedora's package manager. The outdated version of the Phoronix Test Suite also appears to have been removed. If some packager is interested in updating the phoronix-test-suite Fedora package, that would be most appreciated. It would allow for easier benchmarking under Fedora and similar operating systems.
In addition, worthy of being noted in Fedora 16 is the GRUB2 boot-loader being used on new x86/x86_64 installations.
Download links for Fedora 16 Alpha plus the release notes are available from this posting.
If you enjoyed this article consider joining Phoronix Premium to view this site ad-free, multi-page articles on a single page, and other benefits. PayPal tips are also graciously accepted. Thanks for your support.