Show Your Support: This site is primarily supported by advertisements. Ads are what have allowed this site to be maintained on a daily basis for the past 19+ years. We do our best to ensure only clean, relevant ads are shown, when any nasty ads are detected, we work to remove them ASAP. If you would like to view the site without ads while still supporting our work, please consider our ad-free Phoronix Premium.
AMD EPYC 7003 Series Performance In The Cloud With Microsoft Azure HBv3 HPC VMs
Out of 63 tests ran across all five Azure HPC virtual machine generations tested, the EPYC 7V13 powered HBv3 virtual machine was the obvious winner overall. When taking the geometric mean of all the raw benchmark results, the Azure HBv3 was 32% faster compared to the prior generation Azure HBv2 that offered similar performance to the Xeon Scalable powered Azure HC. The uplift isn't as dramatic as going from HBv1 to HBv2 where there was also the doubling of the vCPU/core count, but with HBv3 maintaining the same CPU count it's quite the generational lift. Also fun to note is the Azure HBv3 offering nearly 3x higher performance compared to the Azure H instance that ushered in their HPC VMs a half-decade ago.
The Intel-based HC VM with 44 cores is costing 13% more for the on-demand price compared to the Azure HBv3 120 core intance. (Again though depending upon the region and if going for a multi-year reserved instance, etc, pricing may come out differently. For simplicity sake, just looking at the on-demand pricing for benchmarks.) The main area where the Azure HC virtual machine was competitive to Azure HBv3 was for a subset of the AI / deep learning workloads that are optimized well for Intel Xeon Scalable / AVX-512 platforms.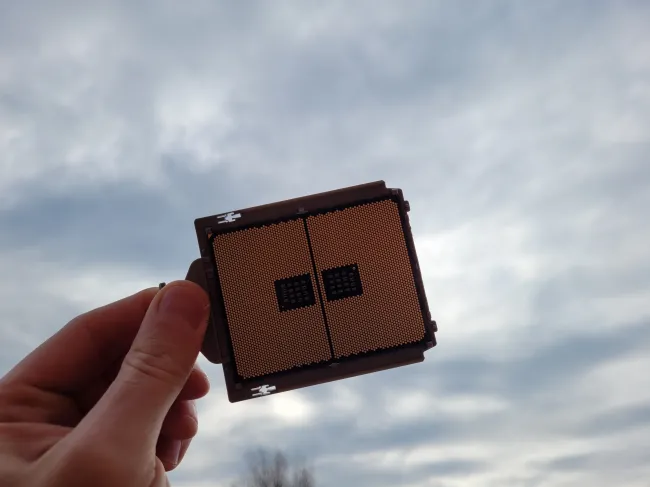 So for those unable to physically get your hands on a high performance AMD EPYC 7003 series server or preferring the cloud, via Microsoft Azure there is already on-demand instances available -- and that have been there since launch day. Compared to prior generations with having to wait a while before seeing public cloud availability or similarly not seeing any Ice Lake Xeon VMs yet, this has been quite the treat for those wanting to run HPC workloads in the cloud. The pricing of the Azure HBv3 virtual machines drives a good value as well.
Thanks to Microsoft for allowing us to run these benchmarks as we wish in the Azure cloud. Those wanting to look at the entire basket of benchmarks ran across the different Azure HPC types can visit this OpenBenchmarking.org result file. From there with each of the tabbed results is also the performance-per-dollar. Via OpenBenchmarking.org you can also adjust the pricing values to your local region/pricing and further dig into all of these benchmarks. If there is enough interest from readers I will also look into some multi-VM MPI benchmarks with Azure HPC and other areas -- let me know any other benchmark requests via commenting on this article in the forums.
More details on the Azure HBv3 instances via Microsoft Azure.
If you enjoyed this article consider joining Phoronix Premium to view this site ad-free, multi-page articles on a single page, and other benefits. PayPal or Stripe tips are also graciously accepted. Thanks for your support.