Show Your Support: Have you heard of Phoronix Premium? It's what complements advertisements on this site for our premium ad-free service. For less than $4 USD per month, you can help support our site while the funds generated allow us to keep doing Linux hardware reviews, performance benchmarking, maintain our community forums, and much more.
Dynatron A38 Performance For Cooling 280 Watt AMD EPYC CPUs
Announced in March by Dynatron was their A38 CPU cooler for AMD Ryzen Threadripper and EPYC processors. This heatsink fan is rated for cooling up to 280 Watt SP3/sTRX4/TR4 processors making it capable of cooling even the newest high-end EPYC "Milan" processors with the EPYC 75F3 and 7763 processors. Here are some initial benchmarks of this cooler with the AMD EPYC 7763 server processor.
While being rated for cooling up to 280 Watt AMD EPYC/Threadripper processors, it's sized small enough for still fitting within 2U rackmount server enclosures. This heatsink fan measures in at just 119 x 79 x 65 mm while being comprised of an aluminum heatsink with heatpipes embedded.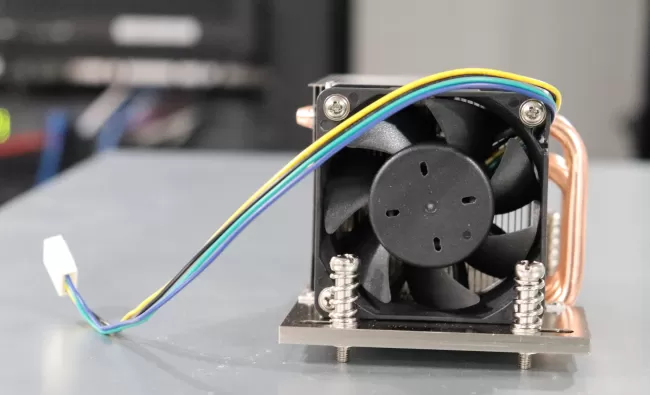 The Dynatron A38 has just a single 60mm fan. For being able to cool up to 280 Watts, this 60mm fan can spin up to 11,000 RPM at which the fan will be pushing 58.31 CFM airflow and yielding a roughly 59.8 dBA noise level. Fortunately, with being a PWM fan, for most of the time the double fall bearing fan stays relatively quiet.
The Dynatron A38 doesn't look all that different from former Dynatron heatsink fans like the Dynatron A26 that we also have in the lab, which is rated for cooling up to 280 Watt EPYC/Threadripper too but its 60mm fan maxes out at around 8000 RPM.