A Dream Come True: Running Coreboot On A Modern, Retail Desktop Motherboard
Across the 181 benchmarks carried out in these different BIOS configurations, here is a look at the overall geometric mean for all of the raw performance benchmarks:
Running the Dasharo 1.0 release on the MSI motherboard yielded 96% the performance of the proprietary BIOS overall (or 94.5% to the XMP profile configuration).
On average though the Core i5 12400 was running at a 47 Watt average to the proprietary BIOS with these 180+ tests yielding a 50 Watt average.
The main reason it seems for the Dasharo firmware offering lower performance at times was the Core i5 12400 being tested never exceeded a maximum peak frequency of 4.0GHz while the proprietary BIOS successfully hit the 4.4GHz maximum turbo frequency of the i5-12400. Meanwhile the Dasharo firmware never led to the i5-12400 clocking down to 600MHz on all cores as a minimum frequency during idle but there was a ~974MHz.
This slightly different clocking / power management behavior did lead to a greater range of CPU core operating temperatures than the proprietary BIOS. Again, see all the individual benchmark data here.
In any event while the Dasharo firmware tended to trail the proprietary BIOS slightly in raw performance, it generally delivered superior performance-per-Watt. This area may also be better tuned in future Dasharo releases for those just concerned about maximum performance.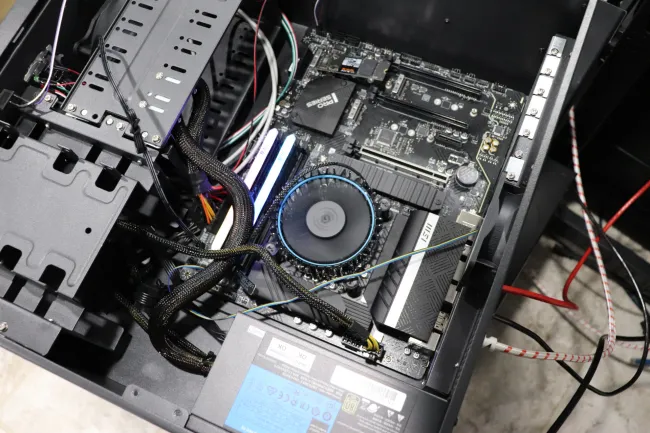 In any event it's been a fun few days so far trying out the Dasharo/Coreboot firmware on the MSI PRO Z690-A WiFi DDR4 motherboard. It's wonderful finally having a ~$220 USD desktop motherboard for current-generation Intel processors that can run on the open-source Coreboot firmware! The folks at 3mdeb have done a wonderful job as well with the documentation and making it very easy to get Dasharo flashed onto this retail consumer motherboard. Visit docs.dasharo.com to learn more about this effort.
For those wanting to tinker with the open-source Coreboot on the desktop but haven't wanted to run a many-years-old motherboard like the few from the AMD Opteron era that support Coreboot (nor old Lenovo ThinkPads or Chromebooks or the limited devices of more recent laptops from Star Labs and System76), the MSI PRO Z690-A WiFi DDR4 is now an instant great choice for a modern, affordable option. I highly endorse this effort and hope to see more great motherboard ports from the engineers at 3mdeb.
If you enjoyed this article consider joining Phoronix Premium to view this site ad-free, multi-page articles on a single page, and other benefits. PayPal tips are also graciously accepted. Thanks for your support.