CompuLab Intense-PC2: An Excellent, Fanless, Mini PC Powered By Intel's i7 Haswell
Last month in a preview article I mentioned I was testing CompuLab's Intense-PC2 and that it was a great Haswell-based mini Linux PC. After using it now for another month and putting it through its paces with many strenuous benchmarking workloads and trying out other Linux distributions, I remain enthusiastic about the Intense-PC2 and it being a great offering for Linux (and even Windows/BSD) users.
While we've reviewed several other CompuLab products on the past from Phoronix, if you're not familiar with the company, they are an Israeli supplier of both x86 and ARM systems. CompuLab especially has a thing for great embedded computing designs that not only offer the line up of the Intense-PCs that are considered industrial-ready but they also manufacturer computer-on-modules and single board computers. The CompuLab x86/ARM systems we have tested in the past at Phoronix have all worked out well. Compared to many other Linux PC vendors that are just relabeling white box systems, CompuLab designs and manufacturers their products. Some CompuLab systems have shipped with Linux while others come with no operating system pre-installed.
Like CompuLab's other review samples from the past, the Haswell-based Intense-PC2 arrived quickly and safely from Israel via UPS. In the past CompuLab's distribution channels within the United States have been a bit problematic for Phoronix readers wishing to order these PCs, but things seem to be improving with some of their products even appearing on Amazon.
Included with the Intense-PC2 was a very simple owner's manual, HDMI to DVI adapter, external 12V power supply, two WiFi antennas, and a small RCA cable. The Intense-PC2 looks very similar to the original Intense-PC in it being a fan-less system constructed within a pure metal housing to ensure it meets the customer requirements of CompuLab's customers.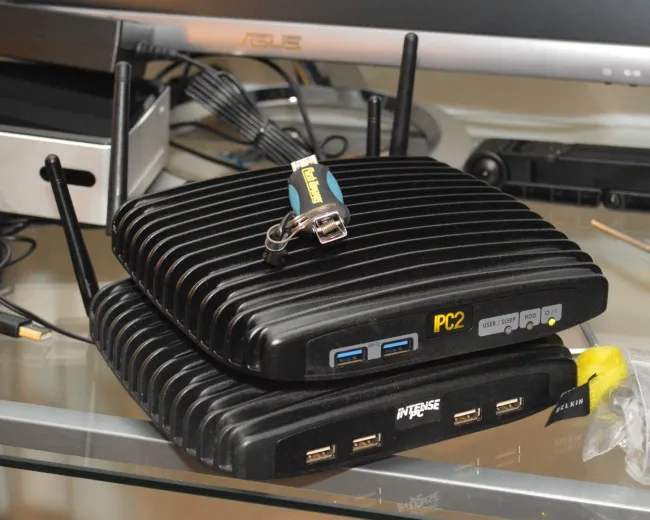 The CompuLab Intense-PC2 review sample we received utilized an Intel Core i7 4600U Haswell processor, 8GB of DDR3L system memory, 120GB Micron SSD, and Intel Haswell HD Graphics.