Show Your Support: Did you know that you can get Phoronix Premium for under $4 per month? Try it today to view our site ad-free, multi-page articles on a single page, and more while the proceeds allow us to write more Linux hardware reviews. At the very least, please disable your ad-blocker.
CompuLab IPC3, Testing 10 Mini PCs / Small Form Factor Linux PCs
The IPC3 is CompuLab's latest-generation Intense-PC. It may look similar to past IPC models, but is now equipped with the latest generation Intel Core CPUs while remaining fan-less and within an all-metal housing that's extremely durable.
For those that are not familiar with the CompuLab name, they are a vendor of Intel / AMD / ARM embedded computing modules, single board computers, and industrial PCs. The company is headquartered out of Yokneam Illit, Israel and has been in business since 1992 while since 2007 they have been producing fanless industrial-grade PCs to complement their computer modules, SBCs, and other interesting offerings.
It was back in 2012 that we looked at the original Intense-PC (IPC) that was based on Intel's Ivy Bridge processor. Two years later was then the Intense-PC2 with Haswell upgrades and now today we are looking at the IPC3 that is equipped with a Kabylake processor.
The IPC3 looks much like the past Intense-PC/IPC models in that they are of the same small form factor, fanless, and built out of an all-metal rugged housing. These PCs are clearly capable of industrial grade applications and are among the most reliable SFF PCs we have ever tested at Phoronix -- certainly much more durable than an Intel NUC in their stock housing.
The CompuLab IPC3 can be equipped with up to 32GB of RAM, three internal disks via 2.5-inch/M.2/mSATA, 802.11ac WiFi onboard, optional cellular data support, dual Intel Gigabit Ethernet NICs by default, and supports the company's "FACE Modules" that allow changing out the I/O connectivity / ports on the front of this fanless PC.
These CompuLab FACE Modules easily allow adding an extra four Gigabit Ethernet ports (such as the model we are testing), two SFP+ Gigabit fiber-optic LAN connections, a Gigabit Ethernet bypass, six RS-232/RS-485 serial ports, two PAL/NTSC video inputs, or two mini-PCIe sockets.
Current IPC models include options for either a Core i5 7200U processor or the Core i5 7500U. It's the Core i5 7500U model (IPC3-C7500-WACB-FMUSB3) that CompuLab kindly sent over to us as a review sample.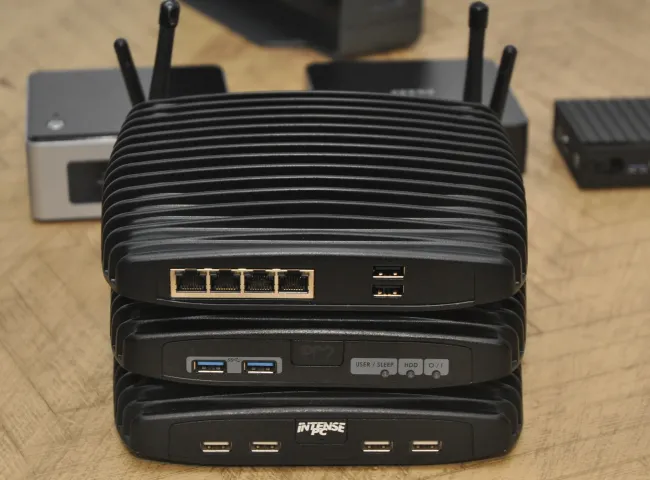 Later on in this review is an interesting benchmark / power use / CPU thermal comparison featuring the:
- Airtop - i7-5775C
- CompuLab fitlet - A10 Micro-6700T
- CompuLab IPC - i7-3517UE
- CompuLab IPC2 - i7-4600U
- Compulab IPC3 v2.0 - i7-7500U
- MSI MS-B1421 - i5-7200U
- Macmini7,1 - i5-4278U
- NUC DN2820FYK - N2820
- NUC NUC5CPYB - N3050
- NUC NUC5i3RYB - i3-5010U