Show Your Support: Did you know that you can get Phoronix Premium for under $4 per month? Try it today to view our site ad-free, multi-page articles on a single page, and more while the proceeds allow us to write more Linux hardware reviews. At the very least, please disable your ad-blocker.
Intel Coffee Lake OpenGL Performance On Windows 10 vs. Linux
For those curious about the state of Intel's open-source Mesa OpenGL driver relative to the company's closed-source Windows OpenGL driver, here are some fresh benchmark results when making use of an Intel Core i7 8700K "Coffee Lake" processor with UHD Graphics 630 and testing from Windows 10 Pro x64 against Ubuntu 16.04.3 LTS, Ubuntu with the Linux 4.16 Git kernel and Mesa 18.1-dev, and then Intel's own Clear Linux distribution.
This article is just looking at the OpenGL driver performance of Windows 10 vs. Linux in some tests that run fine on Intel's current-generation Intel UHD Graphics hardware and of software of similar quality on Windows and Linux: we're not looking at the Linux gaming performance per se or port performance in this article but just OpenGL driver performance, especially since many of the Linux game ports can't run too well with Intel HD/UHD Graphics at this time. Vulkan isn't being looked at in this article since most of the Vulkan Linux games are ports, not too performant on Intel graphics at 1080p, and/or not comparable benchmarking support on Windows.
Windows 10 Pro x64 had all available system updates as of 19 February 2018. The Intel Windows driver in use was version 23.20.16.4944, released back on 14 February as their current latest driver release and supplying OpenGL 4.5.
Ubuntu 16.04.3 LTS was the first Linux distribution tested and began with its out-of-the-box HWE stack of the Linux 4.13 kernel and Mesa 17.2.8. Following those runs, the upgrade was made to Linux 4.16 daily Git via the Ubuntu Mainline Kernel PPA and then also upgrading the OpenGL stack via the Padoka PPA to using the Mesa 18.1-devel code for the bleeding-edge open-source OpenGL Intel Linux experience.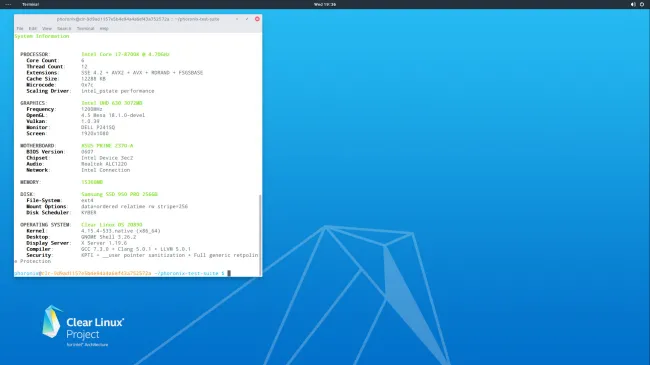 Lastly, a run of Intel OTC's Clear Linux distribution was used for this performance-oriented distribution that is rolling-release and currently shipping with Linux 4.15.4 and Mesa 18.1-dev.
The same system was used across testing these three operating systems and all of the OpenGL benchmarks were facilitated in a fully-automated and reproducible manner using the open-source Phoronix Test Suite benchmarking software.