ASRock AM1H-ITX
BIOS/UEFI:
The UEFI setup utility shipped on the ASRock AM1H-ITX is a standard interface for ASRock motherboards. Limited overclocking support is available for this motherboard.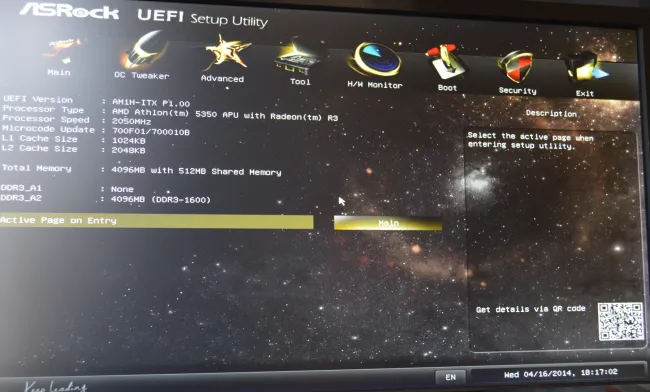 Linux Support:
As with the other AMD AM1 motherboards we have tested thus far (the Gigabyte AM1M-S2H and ASUS AM1I-A), the ASRock AM1H-ITX worked fine under Linux. The main distribution we have been testing is Ubuntu 14.04 LTS.
There were no issues with the AM1H-ITX motherboard and the modern Linux kernel sans the lack of LM_Sensors support for reading the various hardware sensors on the motherboard. This, however, is a common limitation to Linux on newer motherboards. Additionally, as with the other AM1 motherboards, it's very advisable if planning to use Linux with the open-source Radeon graphics driver you will want to be running the Linux 3.14~3.15+ kernel, Mesa 10.2 or newer, and other recent software components for the best OpenGL support and performance. If using Catalyst, running the latest Catalyst Linux driver should be fine.
Linux Performance:
For those curious how the ASRock AM1H-ITX performs against the Gigabyte AM1M-S2H and ASUS AM1I-A motherboards, I uploaded a three-way comparison using the Athlon 5350 APU.
The three-way AM1 motherboard comparison was done with the Phoronix Test Suite and the results can be found by clicking 1404160-KH-ASROCKMOB27. Overall, the ASRock motherboard performance is in line with the other Gigabyte and ASUS products. I've also used this ASRock motherboard in a few of the other AMD AM1 Linux articles.
Conclusion:
Overall, I like the ASRock AM1H-ITX motherboard a lot! The AM1H-ITX works fine with recent versions of Linux, it's great to have the PCI Express x16 option out of this mini-ITX motherboard, four Serial ATA 3.0 ports should be sufficient to most users, it's wonderful to have VGA / DVI / DisplayPort / HDMI options, the connectivity overall is great, and lastly the option to use a DC-In power connector in place of a 24-pin ATX PSU is also great for low-power AMD APU systems. The ASRock AM1H-ITX motherboard is currently retailing for $55~60 USD.
If you enjoyed this article consider joining Phoronix Premium to view this site ad-free, multi-page articles on a single page, and other benefits. PayPal tips are also graciously accepted. Thanks for your support.