ARCTIC Accelero Xtreme Plus II
If you're a Linux desktop user on an open-source graphics driver that lacks proper fan management and power management support, you may want to consider an after-market graphics card cooler that is more efficient and also quieter. One of the high-performance after-market GPU cooling solutions is the ARCTIC Accelero Xtreme Plus II, which boasts three fans but is very quiet and does an incredible job at keeping NVIDIA and ATI/AMD graphics processors operating at quite low temperatures.
ARCTIC's goal with the Accelero Xtreme Plus II is "to satisfy overclockers with unmatched cooling performance while doing it in total silence." The ARCTIC Accelero Xtreme Plus II has three 92mm fans, which when combined with the aluminum heatsink and copper heatpipes, offer 300 Watts of cooling capacity. While there are three 92mm fans, they are controlled via Pulse Width Modulation (PWM) to spin only at the speeds necessary for sufficient cooling. The three fans are fluid dynamic bearing based and spin between 900 and 2000 RPM. The heatsink has 83 aluminum fins and there are five 6mm copper heatpipes.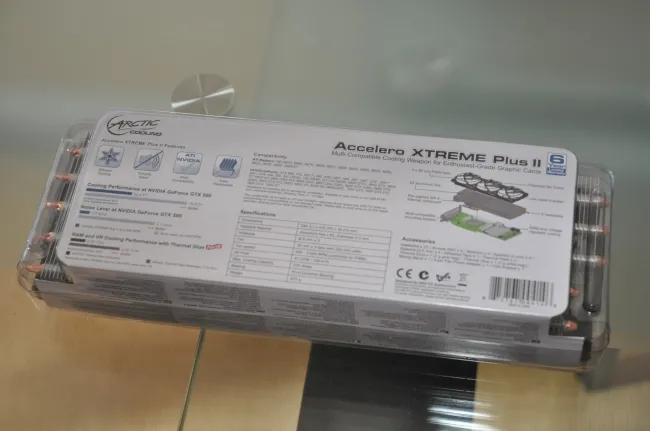 The Accelero Xtreme Plus II is meant to be a near-universal cooler for both NVIDIA GeForce and ATI/AMD Radeon graphics cards. Due to being compatible with a range of graphics cards, there is not memory or VR power cooling integrated into the VGA heatsink itself. Shipping with the ARCTIC cooler are RAM and VR cooling heatsinks that can be applied with the included ARCTIC G-1 thermal glue. The weight on the heatsink itself is 615 grams.
Included with the ARCTIC Accelero Xtreme Plus II is the heatsink, mounting hardware (screws/washers/spacers), adhesive tape, thermal pads, G-1 thermal glue, a mixing wand for the G-1, a 4-pin molex fan power adapter, and a expansion slot bracket. ARCTIC backs this VGA cooler with a six-year limited warranty.