Show Your Support: This site is primarily supported by advertisements. Ads are what have allowed this site to be maintained on a daily basis for the past 19+ years. We do our best to ensure only clean, relevant ads are shown, when any nasty ads are detected, we work to remove them ASAP. If you would like to view the site without ads while still supporting our work, please consider our ad-free Phoronix Premium.
AMD Radeon RX 480 On Linux
Well, that's the initial Linux OpenGL/OpenCL/Vulkan results I have from testing the Radeon RX 480 for the past several days. The Radeon RX 480 under Linux (regardless of AMDGPU-PRO vs. RadeonSI drivers) tended to perform between the GeForce GTX 960 and GTX 970 in many cases (or GTX 970 to GTX 980 in some cases) while in cases where the AMD Linux stack works well (Xonotic, Unigine, etc), the performance of OpenGL games allowed this $200+ graphics card to perform between a GeForce GTX 980 and GTX 980 Ti. However, only in very few tests was the Radeon RX 480 Linux performance competing with or exceeding the GeForce GTX 980. And in some select cases given the overall state of the AMD Linux driver stack, the performance was lower than a GeForce GTX 960.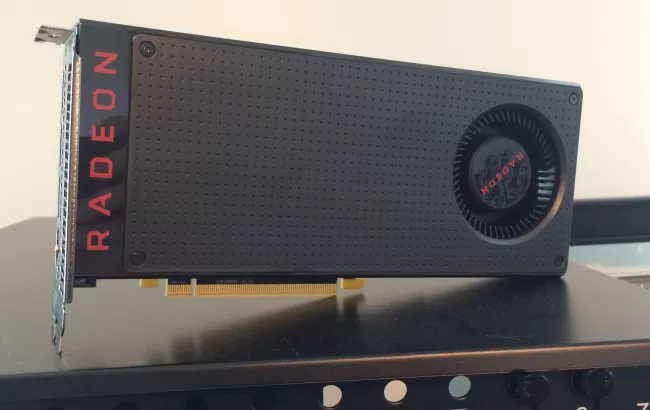 But the Radeon RX 480 does show incredible value when looking at the price of $199+ (or $239 for the 8GB version, as is featured in this article) and also factoring in the performance-per-Watt. Some of AMD's material indicates that the RX 480 delivers 1.9x performance-per-Watt of the Radeon R9 290, but in my own tests under Linux, this tended to be 40~50% at best. But still, that's quite significant and generally the RX 480 performance-per-Watt was matching or beating out the top-end NVIDIA Maxwell GPUs. The RX 480 is clearly a much more power efficient GPU in its price range than previous generations of AMD GPUs.
When looking at the value, the Radeon RX 480 was right at the top and basically in terms of NVIDIA competition generally running against the GeForce GTX 970 for best value under Linux.
So long story short, the Radeon RX 480 isn't the most powerful card out there -- not that anyone should have been expecting it to be considering the $200 price tag, but it does offer incredible value and power efficiency. Beyond the Radeon RX 480 offering great value and efficiency, the RX 480 is an instant splendid choice if you are after open-source driver support. The Radeon RX 480 "Polaris" is the first to have launch-day open-source driver support for a major discrete GPU launch and from these results the performance of this Mesa/Gallium3D-based stack is quite comparable to that of the AMDGPU-PRO hybrid driver. The fully open-source driver did perform well but note that its OpenGL 4.x support is lagging behind slightly (but should catch up later this year), the OpenCL support isn't in as good shape until the ROC code is all in order rather than Clover, and the AMD Vulkan driver isn't yet open-source with no new information about when that Vulkan driver could be opened up. Also not coming until Linux 4.8 is the OverDrive overclocking support. Additionally, the DAL display abstraction code isn't yet set to be mainlined, which is needed for FreeSync support, HDMI 2.0, and other new display features in the open-source driver stack.
But if you are after a modern GPU that works today with a fully open driver (sans the firmware blobs), the Radeon RX 480 will fit your needs. On the open-source NVIDIA (Nouveau) side, the GeForce GTX 900 Maxwell support only began offering 3D acceleration a few months ago but the lack of power management / re-clocking leads to pathetic performance, there isn't any GeForce GTX 1000 Pascal support until NVIDIA again releases their signed firmware images, and only now the GeForce GTX 600/700 Kepler GPUs are starting to run nicely with the open-source code when enabling the non-default boost / re-clocking capabilities.
Stay tuned for more Radeon RX 480 Linux testing to happen on Phoronix in the days ahead. If you found this launch-day RX 480 review insightful as a Linux OpenGL/OpenCL/Vulkan user, consider joining Phoronix Premium or making a PayPal tip. For Phoronix Premium users, I have also published some extra Radeon RX 480 Linux results for Tomb Raider, Company of Heroes 2, and Shadow of Mordor as other interesting and demanding Linux game tests that couldn't be fully-automated and thus not making this formal review.
If you enjoyed this article consider joining Phoronix Premium to view this site ad-free, multi-page articles on a single page, and other benefits. PayPal or Stripe tips are also graciously accepted. Thanks for your support.