Show Your Support: Did you know that you can get Phoronix Premium for under $4 per month? Try it today to view our site ad-free, multi-page articles on a single page, and more while the proceeds allow us to write more Linux hardware reviews. At the very least, please disable your ad-blocker.
AMDGPU-PRO 17.30 vs. Linux 4.13 + Mesa Git RadeonSI Benchmarks
With this week's release of AMDGPU-PRO 17.30, here are some fresh benchmarks of this latest AMD hybrid Linux graphics driver release compared to using the newest pure open-source driver stack in the form of the Linux 4.13 development kernel and Mesa Git.
With a Radeon RX 580 and R9 Fury running on an Ubuntu 16.04.2 LTS stack, the following driver configurations were tested on the Polaris and Fiji graphics cards:
- AMDGPU-PRO 17.10 as the previous stable hybrid driver.
- AMDGPU-PRO 17.30 as the newest public hybrid driver release.
- The system upgraded to Linux 4.13 and Mesa 17.1.4 as the latest stable release built against LLVM 4.0.
- The system upgraded to the Linux 4.13 kernel and using the Padoka PPA to provide Mesa Git (now 17.3-dev) built against LLVM 5.0 SVN as of this week. Mesa 17.2 was branched from Git master earlier in the week.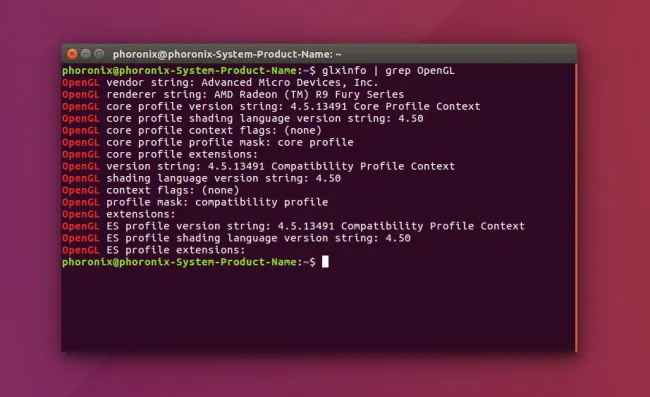 In this article are just benchmarks of the OpenGL performance. Vulkan results weren't carried out because with the AMDGPU-PRO 17.30 press driver, the Vulkan driver wasn't working on this system with either the RX 580 or R9 Fury although it had worked with 17.10 and RADV on Mesa. But I'll have some other Radeon Vulkan benchmarks coming up shortly on Phoronix.
This is quite a straight-forward comparison so let's get right to the results.