AMD To Drop Radeon HD 2000/3000/4000 Catalyst Support
AMD will be maintaining the R600 through RV770 support in a legacy branch, but if anything it will only be updated for critical bug-fixes and not any new xorg-server/kernel enablement. That's been confirmed. The bug fixes will likely be whatever their enterprise big-ticket customers demand, if anything. There is going to be no active development on this legacy branch under Linux. The Catalyst Linux support that will remain in mainline is then obviously the Radeon HD 5000 "Evergreen", Radeon HD 6000 "Northern Islands", and the newest Radeon HD 7000 "Southern Islands" series, plus the various AMD Fusion parts.
On NVIDIA's side, they still have three legacy branches of their proprietary drivers, but at least there they do put out occasional updates for prominent bug-fixes and to generally enable support for new X.Org Servers and Linux kernel updates.
While the Radeon HD 2000/3000/4000 series open-source driver support is stable, for not all cases is this driver as good as Catalyst. First and foremost, the OpenGL support on the open-source side is still playing catch-up and the performance is still a ways off from matching the Catalyst driver. If you are running a very low-end Radeon graphics card you may find decent performance out of the open-source driver, but for higher-end cards especially the open-source driver is left in the dust when it comes to the ever-heated performance race.
Beyond the OpenGL compliance and performance, there's also not any UVD-enabled video accelerated playback, the OpenCL support still hasn't fully come to fruition, power management support is struggling, and there's a host of other missing functionality. Among the other missing bits include no CrossFire support, no OverDrive capabilities, the various anti-aliasing modes supported by Catalyst, a decent graphical user-interface control panel, Catalyst AI, other AMD/ATI-specific vendor features, and much more. Heck, the open-source Radeon driver does not even have the same level of information reporting about the graphics card's attributes. The open-source Radeon driver also does not even enable PCI Express 2.0 support by default at this time!
AMD has continued making notable advancements to their open-source Linux driver support, but it still leaves a lot to be desired. Even for new hardware, they still do not have fully working open-source OpenGL for the Southern Islands.
I am a bit surprised that they are dropping the R600/700 Catalyst support already considering the hardware is still very easy to find for purchase brand new and the hardware is not too old. Hell, it was only four years ago that the Radeon HD 4000 series was introduced and that is the point when AMD began to provide same-day Catalyst Linux hardware support. I'm all in favor of letting old hardware support on Linux die, but I just find it a bit shocking and unfortunate that the Radeon HD 4000 series support in Catalyst mainline is already going to be eliminated.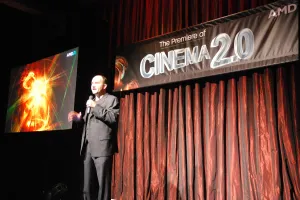 From the Phoronix archives of the AMD RV770 (Radeon HD 4800 series) launch event in San Francisco (summer 2008).
For reference, the Radeon HD 2900XT was the first R600 / Radeon HD 2000 series graphics card and it launched on the 14th of May 2007. When the Catalyst support is dropped, it will have been just past five years old. The Radeon HD 3000 series hardware then began shipping in late 2007 as a half-generation R600 update. The Radeon HD 4000 series was introduced in June of 2008 with the launch of the extremely popular RV770 ASIC found in the Radeon HD 4850/4870 graphics cards. In comparison for the last time Catalyst hardware support was removed, the original R300 GPUs were nearly seven years old, the R400 series was four to five years old, and the Radeon X1000 (R500) series was about four years old.
News of this hardware support being removed from the proprietary driver is not being greeted by any news of AMD expanding their open-source driver efforts. They still have their small development team that's trying to accomplish a lot, but unfortunately is handicapped by limited manpower and also the usual corporate wrangling with legal/technical review and other headaches. Hopefully within our forums there will be further remarks on the topic by our prolific forum poster from AMD, John Bridgman.
Now let's see what Linux users can expect from performance out of the open-source driver stack when the Catalyst support is eliminated in just a few months...