AMD Athlon 5350 APU On Linux
Now that we've covered the general information about the new socketed Kabini APUs, here are our first benchmarks from the Athlon-branded Kabini APU we were seeded with by AMD: the Athlon 5350 with Radeon R3 Graphics. Let's see how this 25-Watt APU with four processor cores can perform under Ubuntu 14.04 Linux.
This article is the first of many benchmarks of the Athlon 5350 and other socketed AM1 APUs to come on Phoronix for our Linux testing of this exciting entry-level desktop platform. In this article are the initial Athlon 5350 performance figures I was able to generate over the past few days of having this AMD APU review sample.
The AMD Athlon 5350 is a quad-core part with the CPU cores running at 2.05GHz and 2MB of cache. There's 128 Radeon R3 GCN cores and they're operating at 600MHz while the Athlon 5350 supports a system memory frequency up to 1600MHz.
With the Athlon 5350, AMD also sent over an ASUS AM1I-A motherboard as a mini-ITX design for the socketed AM1 Kabini APU. Also installed was a lone stick of 4GB AMD Radeon Memory Entertainment Series DDR3-1600MHz RAM.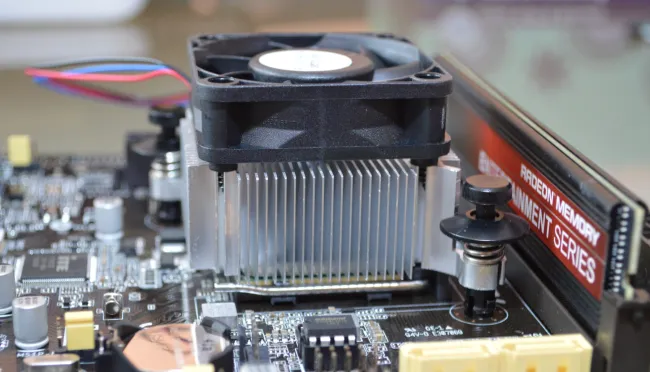 The ASUS AM1I-A motherboard overall appears quite nice with dual Serial ATA 3.0 ports, one PCI Express x4 slot, dual DDR3-1600MHz DIMM slots, one Gigabit Ethernet port, dual USB 3.0 ports on the rear (along with four USB 2.0 ports), and VGA, DVI, and HDMI outputs. With being an entry-level desktop board, there's still even PS/2 ports on the motherboard for keyboard and mouse.