AMD Brings Back Semprons & Athlons With The 2014 AM1 Platform
After much information being made public in March concerning AMD's AM1 platform that delivers socketed APUs for low-cost desktop systems, the first of these new socketed APUs are shipping today under the restored Athlon and Sempron branding. We've been fortunate enough to have one of the new Athlon AM1 APUs at Phoronix for a few days of testing.
Last weekend we were surprised by the arrival of an AMD Athlon 5350 APU system with ASUS AM1I-A motherboard. This new Athlon 5350 APU with Radeon R3 Graphics is being extensively benchmarked at Phoronix under a variety of Linux configurations. The first of these results will be published shortly on Phoronix, now that the NDA has just expired concerning AMD's 2014 AM1 Platform. Before getting to those Linux performance results, here's some information on the new entry-level desktop platform.
The AMD AM1 platform pairs AMD's Kabini APU with an FS1b upgradeable socket.
The AM1 platform restores AMD's Sempron and Athlon product-lines, now in APU form.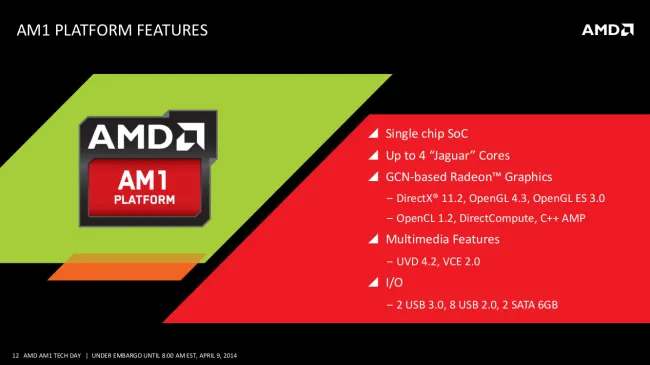 These new Athlons and Semprons are single-chip SoCs that have up to four Jaguar CPU cores and Radeon Graphics. These graphics provide similar capabilities to other GCN GPUs with OpenGL 4.3 support, OpenCL 1.2, UVD 4.2, VCE 2.0, etc.
AMD views the Intel Bay Trail Atom/Celeron systems as the competition to the AM1 platform. AMD, however, believes their new hardware is superior to Bay Trail for having both 32-bit and 64-bit Windows 7/8.1 support, two USB 3.0 ports over one as limited by the Bay Trail chipset, 1600MHz memory support over 1333MHz with Bay Trail, and is a socketed APU.
The AM1 APUs shipping today include the Athlon 5350, Athlon 5150, Sempron 3850, and Sempron 2650. The Athlon 5350 is the highest-end AM1 APU and is what we have our hands on, courtesty of AMD. The Athlon 5350 is a quad-core APU clocked at 2.05GHz and features 128 GCN Radeon GPU cores with a GPU frequency of 600MHz. There's a total of 2MB cache for the APU and its TDP is rated for 25 Watts. The Athlon 5150 is similar but is a quad-core 1.6GHz APU. The current Sempron line-up has the 3850 as a 1.3GHz quad-core processor with 128 GCN Radeon cores but clocked only at 450MHz. The Sempron 2650 meanwhile is a dual-core 1.45GHz APU with its 128 GCN Radeon cores running at 400MHz and the system memory is limited to DDR3-1333MHz speeds. There's also only a 1MB cache for the Sempron 2650 compared to 2MB with the other models. All of these AM1 parts have a 25 Watt TDP.
The AM1 platform is very budget friendly... Motherboards are expected to cost just $25~35 while the Sempron APUs will cost $39 USD and the highest-end Athlon 5350 will set you back just $55~59.