Show Your Support: Did you know that the hundreds of articles written on Phoronix each month are mostly authored by one individual? Phoronix.com doesn't have a whole news room with unlimited resources and relies upon people reading our content without blocking ads and alternatively by people subscribing to Phoronix Premium for our ad-free service with other extra features.
AMD Radeon RX 6800 Series Linux Performance
Above is a look at the geometric mean of all the gaming benchmarks (obviously not including the perf-per-dollar or perf-per-Watt but purely the raw gaming results). The Radeon RX 6800 XT was consistently battling it out with the GeForce RTX 3080. On Linux in some areas it did come up a bit short of the RTX 3080, but that should improve with time given the constantly evolving open-source drivers. Similarly, the Radeon RX 6800 came in just behind the RTX 2080 Ti and that should get tighter with the Linux driver work ahead. Overall when going from the Radeon RX 5700 XT to Radeon RX 6800 XT was an incredible 81% improvement in the performance -- while using open-source Linux drivers!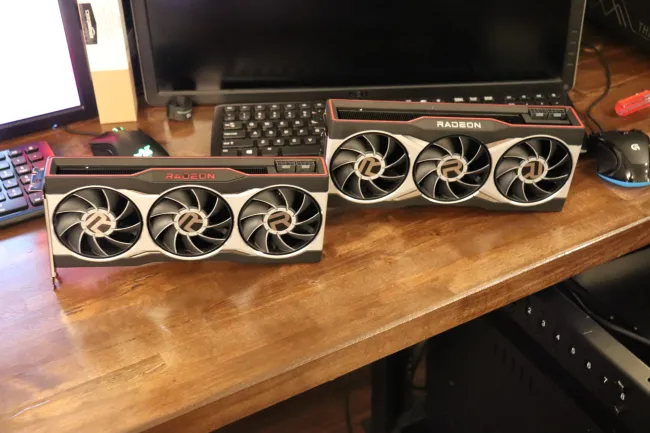 The Radeon RX 6800 series is unequivocal greatness for open-source Linux users. There is no competition at all if wanting the best performance and strictly looking at open-source driver support. NVIDIA is not actively supporting open-source support with the Nouveau community driver or via other means. In fact, there is no open-source accelerated support at all yet for the GeForce RTX 30 series. Even when it comes to the GeForce RTX 900 series and later, the open-source 3D support is severely crippled as the current Noveau driver is bound to its boot clock frequencies that are kept low and unable to ramp up to the rated stock or boost clock speeds. Not until NVIDIA provides PMU firmware and engage with Nouveau to address this severe shortcoming can we expect to see competitive performance on the open-source NVIDIA driver side past Kepler or the GTX 750 Maxwell series as the last of the green GPUs not requiring signed microcode for hardware initialization.
Intel meanwhile does have strong open-source Linux graphics driver support, but they aren't yet shipping any discrete graphics offering for gamers/consumers that can compete with the Radeon RX 6800 series... It will be interesting to see what Intel can manage to come up with next year if not faced by more delays, but for now AMD Radeon can court all of the open-source enthusiasts that religiously abide by open-source and not wanting to deal with proprietary drivers on their systems out of principals or security and manageability reasons.
The Radeon RX 6800 series delivers terrific performance uplift over the Radeon RX 5700 series and prior. That should also evolve nicely as there still is more Linux driver work to happen. But that also brings up the main pitfall: while the open-source support for launch day is the best we've ever seen out of AMD for Radeon graphics, there still is more work to improve the experience. If not wanting the hassle of upgrading your kernel and Mesa, there is the packaged driver -- permitting you are on a supported distribution, which is primarily on the enterprise supported versions. But if using the "PRO" components the performance for gaming is generally short of Mesa. The packaged driver's Mesa build is a heavily patched Mesa 20.1 codebase from Q2'2020.
So if you want the optimal Linux performance at this very moment you need to be comfortable moving to Linux 5.9~5.10 and Mesa 20.3~21.0-devel. If you are okay with that by building it yourself, using third-party repositories / PPAs, or are on a rolling-release, go ahead and get a Radeon RX 6800 series today if you can. But if you don't want to jump through those hoops, you'll want to wait until the spring distributions like Ubuntu 21.04 and Fedora 34 before there is great out-of-the-box support.
There is also more room for improvement by AMD providing the new GPU firmware files sooner to linux-firmware.git, which is needed for any level of driver support (presumably they hold off on publishing the firmware blobs early to thwart any disassembly attempts for revealing additional hardware details). As of writing the files haven't landed in linux-firmware.git to be picked up by any Linux distributions. There are also other lingering items like the AV1 decode support only having been merged into Mesa yesterday. Over the coming weeks we'll likely see more Big Navi optimizations, especially as it pertains to the RADV/ACO support where seemingly most of their developers don't yet have any RDNA2 hardware.
It will be a wild ride the next few weeks continuing to run more Linux benchmarks of the Radeon RX 6800 series and seeing how the performance evolves, so buckle up and stay tuned to Phoronix for the latest on the Big Navi Linux support. At the end of the day I am very happy with the Radeon RX 6800 series accomplishments from the hardware side and indeed the generational uplift is huge and the RX 6800 XT can successfully compete with the RTX 3080 and the RX 6800 generally with the RTX 2080 Ti. To see this competitive performance from the Radeon GPUs being on open-source drivers is even more stunning. And it's all with competitive pricing and power efficiency against NVIDIA's latest wares. AMD has had a terrific year. It's also great there is finally Navi ROCm/OpenCL support (more on that in a follow-up article today). My only hesitation over telling Linux users to run out and buy up the Radeon RX 6800 series graphics cards is over due to the driver loose ends, but that all will be addressed with time. Ideally with the trajectory the open-source AMD Linux graphics support has been on recently, in time for the next-generation GPUs they will have the Linux driver timing perfected.
Update - OpenCL: The Radeon RX 6800 OpenCL benchmark comparison is now up.
If you enjoyed this article consider joining Phoronix Premium to view this site ad-free, multi-page articles on a single page, and other benefits. PayPal or Stripe tips are also graciously accepted. Thanks for your support.