The AMD Radeon R9 Fury Is Currently A Disaster On Linux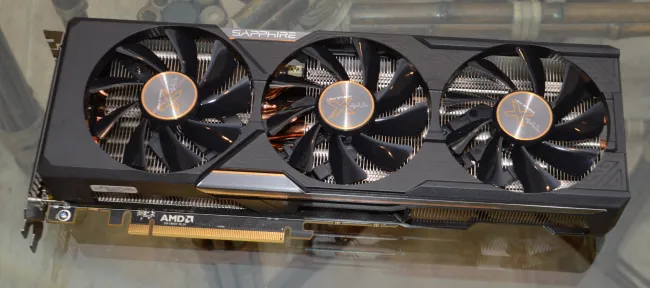 For this initial AMD Radeon R9 Fury Linux testing, all tests were done with Catalyst 15.7 (due to the lack of the open-source driver support) while the tested NVIDIA graphics cards were tested on their latest stable driver at the time of the release, 352.21. The graphics cards tested alongside the Sapphire Radeon R9 Fury included the:
NVIDIA GeForce GTX 680 2048MB
NVIDIA GeForce GTX 780 Ti 3072MB
NVIDIA GeForce GTX 960 2048MB
NVIDIA GeForce GTX 970 4096MB
NVIDIA GeForce GTX 980 4096MB
NVIDIA GeForce GTX 980 Ti 6144MB
NVIDIA GeForce GTX TITAN 6144MB
NVIDIA GeForce GTX TITAN X 12288MB
AMD Radeon HD 7950 3072MB
AMD Radeon R9 285 2048MB
AMD Radeon R9 290 4096MB
AMD Radeon R7 370 4096MB
This comparison was limited to the newer AMD and NVIDIA graphics cards I had available at the time of testing. As is the case, there are a lot more NVIDIA GPUs tested than AMD simply because NVIDIA Corp sends out review samples on most every graphics card while AMD hasn't been supplying any Linux review samples in the past few years; all my GCN GPUs except for the R7 370 (supplied by MSI, and an R7 260X not featured in this article) were bought by Phoronix Media. Though given the numbers about to be shown for the R9 Fury performance with Linux, it's beginning to make sense why they are trying to avoid Linux reviews on their hardware with Catalyst.
The testing happened on an Intel Core i7 5960X Haswell-E system with a Gigabyte X99-UD4-CF motherboard, 4 x 4GB DDR4 memory, 240GB OCZ Vertex 3 SSD, Seiki 4K display, and a Corsair CX750M power supply. The R9 Fury can consume up to 275 Watts and requires two 8-pin PCI Express power connections.
On the operating system side was 64-bit Ubuntu 15.04 with the Linux 3.19 kernel, Unity 7.3.2 desktop, and X.org Server 1.17.1 running with the Catalyst 15.7 / NVIDIA 352.21 drivers.
First up in this testing are some OpenGL performance results followed by some OpenCL compute tests. Following those raw performance tests are then the power consumption, GPU temperature, and performance-per-Watt figures. Measuring the AC power consumption was a WattsUp power meter that interfaces with the Phoronix Test Suite, which also handled monitoring the GPU core temperatures, etc. The Phoronix Test Suite automates all of the testing and ensures the settings/configuration and all other variables are maintained the same during the testing process.