Fedora 9 Alpha Preview
If using the Fedora 9 KDE or Fedora 9 Everything spins, KDE 3.5 has been replaced by KDE 4.0 as the default K Desktop Environment. Compatibility packages (kdelibs3 and kdebase3) will also ship in Sulphur for supporting existing KDE 3 applications that haven't yet been ported to KDE 4. While many aren't completely satisfied with KDE 4.0 and are looking forward to KDE 4.1 in July, Fedora is adopting KDE 4.0 to maintain their mission of highlighting leading-edge technologies. UPDATE: We have posted screenshots here of Fedora 9 KDE Live Alpha.
On the GNOME project side, NetworkManager will find more love in Fedora 9. NetworkManager will support multiple active devices simultaneously, introduce ad-hoc support, connection sharing, PPP support for mobile broadband cards, Bluetooth support, and NetworkManager will be initialized much earlier during the startup process. The version of GNOME that will ship with Fedora 9 is GNOME 2.22, and for more on all of its additions, be sure to read our article about eight of the interesting improvements in GNOME 2.22.
Fedora 9 Alpha ships with Firefox 3.0 Beta 2, which in and of itself adds a host of new features.
In Fedora 9, PackageKit will be integrated and used for its common package management GUI if you prefer it to using Fedora's Pup or Pirut. Further enhancing the package management capabilities in Fedora 9 is the Presto plug-in for yum, which introduces support for downloading and utilizing delta RPMs.
While not of interest to many compared to a faster X startup and shutdown or the end-user features, but Fedora 9 cuts down on the number of dictionaries present. In past releases there have been multiple dictionaries present, but with Fedora 9 they have separated Hunspell from OpenOffice.org and are making the other desktop applications (i.e. gedit, xchat, Pidgin, Firefox) use Hunspell as opposed to aspell and then removing extra copies of Hunspell.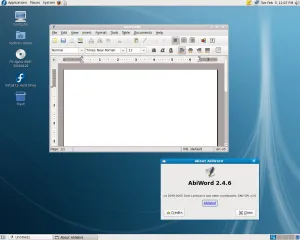 One of the features we have enjoyed since Fedora 7 (Fedora 7 KVM Virtualization How-To) has been virt-manager, which is now premiering with Ubuntu 8.04. In Fedora 9, virt-manager will be integrated with PolicyKit so that this virtualization manager for KVM, Zen, QEMU, and OpenVZ can run as an unprivileged user. In previous Fedora releases, virt-manager has required root access. Using libvirt, which is the underlying virtualization API for virt-manager, it will be possible in Fedora 9 to create and manage virtual storage devices from a remote host. Ending off the virtualization changes for Fedora 9, Xen will be using a paravirt_ops implementation instead of relying upon forward porting the Xen code to the latest kernels as they have done in the past Fedora releases.
One minor feature in Fedora 9, which can also be found in Ubuntu 8.04, is the GNOME clock applet that now supports multiple time-zones/locations. In addition to displaying the time for that location, it's also capable of displaying the current weather conditions. Some of the other changes include support for fingerprint authentication, GCC 4.3, Haskell support, K12 Linux, Free IPA, TeXLive replacing teTeX, and virtual authentication with Kerberos and PAM. Fedora 9 Alpha is shipping with the Linux 2.6.24 kernel.
Past Fedora release cycles have consisted of three or more "Test" releases followed by the final release, however, that has also changed starting with Fedora 9. This first development release, Fedora 9 Alpha, will be superseded by a Fedora 9 Beta release coming in a little over a month. Two weeks before the final Fedora 9 release in April will be the final development release, which will be called Fedora 9 Preview. This last testing release is to find and workout any last minute bugs that may be present before Sulphur makes its official debut, which is planned for April 29 of this year.
If you enjoyed this article consider joining Phoronix Premium to view this site ad-free, multi-page articles on a single page, and other benefits. PayPal tips are also graciously accepted. Thanks for your support.