AMD 8.42 Driver Brings Fixes, AIGLX!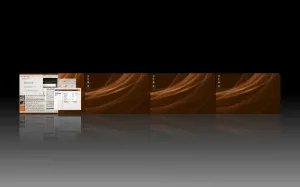 Last month with fglrx 8.41.7 we saw massive performance improvements on all of ATI's supported Radeon products, but that's not the end of the performance improvements. With fglrx 8.42.3 we had experienced some smaller performance boosts as well. We are continuing our testing of the fglrx 8.42.3 driver and may deliver some additional benchmarks shortly.
With Unreal Tournament 3 and Enemy Territory: Quake Wars for Linux, this timing of AMD's 8.41.7/8.42.3 driver has worked out phenomenally. With the 8.42.3 driver and a supported Radeon graphics card, you should be able to experience a great frame-rate for your hardware, stunning image quality and be easily able to manipulate the 3D settings through AMDCCCLE, AIGLX support with Compiz or Compiz Fusion should you chose to do so, smooth video playback through TexturedVideo, and all around a great experience. We have been running the ATI 8.42 driver for a couple weeks internally on different graphics cards, and aside from the problems mentioned in this article, we haven't been plagued by any other issues.
If you run into any new problems or still outstanding bugs with fglrx 8.42.3, be sure to report them in the Phoronix Forums. The fglrx 8.42 doesn't include Linux 2.6.23 kernel support by default, but if you are in a rush, check out the forums for patches. We'll be back next month telling you about the new features in fglrx 8.43.
Editor's Notes: The fglrx 8.42.3 download link can be found here. There is also a very active discussion going on in the Phoronix Forums (fglrx 8.42 codename: "The Baby Is Born"). Also, please participate in our 2007 Linux Graphics Survey.
If you enjoyed this article consider joining Phoronix Premium to view this site ad-free, multi-page articles on a single page, and other benefits. PayPal or Stripe tips are also graciously accepted. Thanks for your support.