ASUS Motherboard Ships With Embedded Linux, Web Browser
Within a second or two after turning on the ASUS P5E3 Deluxe motherboard, we were presented with an Express Gate page right after the system had POSTed. This page allows you to select between booting the OS (continuing with the boot process and continuing in the boot order of either a DVD/CD drive or hard drive), rebooting/shutting down, or launching this SplashTop environment with either the Web Browser or Skype (though once in the environment, you can switch between the two). To select this initial option, you can use your USB mouse; it's not keyboard-dependent for the first part, which was another surprise.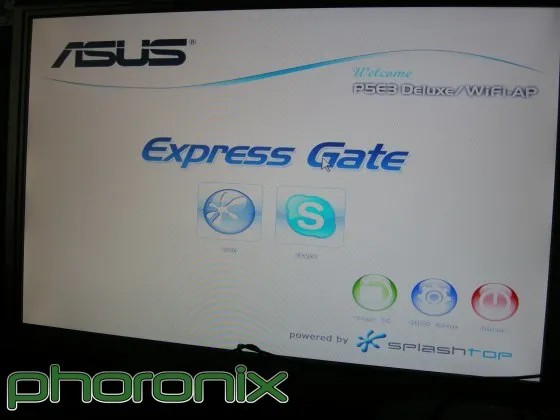 When selecting Web or Skype for the first time, there is the "SplashTop First Time Wizard" that asks for the language, keyboard type, accepting the EULA, and setting the date and time. This first-time wizard uses GTK and is very easy to use even for someone that has never used Linux. The time from selecting the SplashTop option to entering the desktop environment (or entering this wizard) is only a few seconds and everything seemed to load at a brisk pace.