Computex Taipei 2007 Day 1
Zalman
Zalman was a rather interesting booth. They had some 3D LCD monitors on display. When the LCD is fed with 3D content and viewed with 3D glasses, it looks kind of 3D. Frankly, it was not impressive. We have seen how well the 3D glasses idea works in the market. Not very well, we predict it will be a flop. They also had their old CNPS9500 cooler on display and the newer 9700. They also have a smaller cooler called the CNPS8700, which supposedly does better than the CNPS9500, but that is not saying much.
They also have a new GPU cooler with something they called Variable Fins. These fins are shaped so that the surface area uneven and so helps with cooling. They also have a huge base that goes between the cooler and the card and it covers all the MOSFETs and such. We shall see how well this one works as well. There is a reason why some people used to chop the ram cooling pieces off their NV Silencers... Other products included the Hybrid Liquid Cooler Reserator XT and ZM850-HP.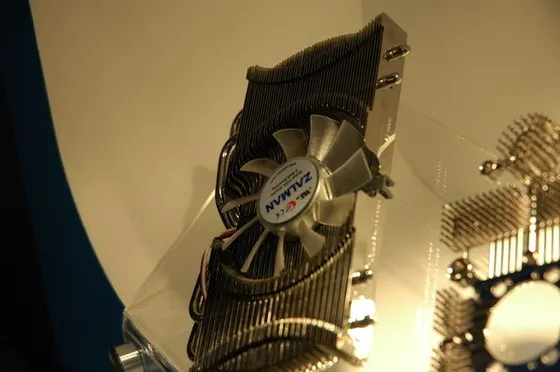 Phew that was a lot of stuff. There will be more coverage tomorrow. Be sure to also check out my blog for SPECIAL Computex content *wink wink*. Here's the link. You can discuss Computex Taipei 2007 in the Phoronix Forums.
If you enjoyed this article consider joining Phoronix Premium to view this site ad-free, multi-page articles on a single page, and other benefits. PayPal or Stripe tips are also graciously accepted. Thanks for your support.