Tyan Tiger i7520SD S5365
Last month we had reported on the Tyan Tempest i5000XL motherboard as well as the Tyan Tiger i7520SD, both of which had their own unique characteristics to the table. However, today we are bringing the remainder of our Tiger i7520SD S5365 review. In this final chapter, we look at its BIOS and real-world performance for this motherboard when combined with Intel's Xeon LV dual-core processors. To recap some of the features, the Tyan Tiger i7520SD S5365 motherboard boasts dual mPGA479 CPU sockets for use with Intel Xeon LV Sossaman processors, E7520 + i6300ESB Chipset, eight DDR2 ECC sockets, triple Gigabit LAN, and finally yet importantly integrated ATI ES1000 video.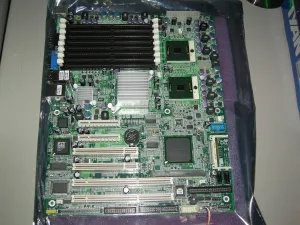 The motherboard itself is incredibly nice and extremely well laid out. Even after a month of tinkering with the product, we have not run into any major problems with the motherboard. It would have been ideal if there were more than two Serial ATA ports, however, that is largely due to a limitation with the E7520 Chipset itself. Other than that small plight, the motherboard is very much well designed and should easily be able to handle the needs presented by server applications with incredible computing performance-per-watt.
Starting up the S5365 motherboard, we entered the Phoenix TrustedCore BIOS. Like many of Tyan's past motherboard BIOS' the areas include main, advanced, security, power, boot, and exit. While some motherboards such as the Tyan K8E-SLI S2866 had allowed some moderate overclocking options even for a workstation motherboard, the Tyan Tiger i7520SD fails to deliver any such features, though we do not generally anticipate any voltage/clocking items for the server motherboards. The advance page does have sub-pages for the Chipset as well as processor. The Chipset control options are for the memory configuration, PCI/PCIe, ESB USB control, Parallel ATA, and Serial ATA devices. The advanced area also has the hardware monitor for voltage, fan speed, temperature, and smart fan control. The voltage monitoring supports CPU1 Vcore, CPU2 Vcore, +1.5V, +1.8V, +12V, +5V, +3.3V, 5VSB, and Vbat. Fan speed monitoring is for CPUFAN1, CPUFAN2, FAN1, FAN2, and FAN3. Supported temperature probes are for CPU1, CPU2, and system.