eVGA e-GeForce 7800GT CO 256MB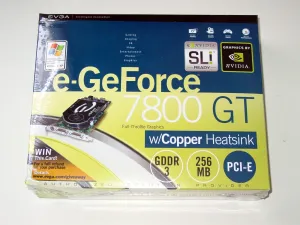 Launched on August 11 of this year, during the QuakeCon 2005 gaming event, was NVIDIA's 7800GT part that came nearly two months after the 7800GTX 256MB inauguration. Although NVIDIA was quick to release the ForceWare 77.72 drivers for Microsoft Windows on June 22 to support the GTX, the Linux 1.0-7667 drivers released on the same day were quite problematic with this new architecture. The main problem pertaining to the Linux drivers was the inability to properly change frequencies upon launching an application so rather than running at the standard 430/1200MHz (GPU/MEM) the 3D core frequency instead would run at 275MHz, which minimized the performance benefits substantially over the GeForce 6 series. Luckily, the issue had been corrected in the 1.0-7676 drivers that were released on August 09, 2005. Even at this time, the NVIDIA Linux display drivers continue to lack some essential features (i.e. HDR lighting and Transparency Adaptive Supersampling/Transparency Adaptive MultiSampling) that have been provided by the Windows ForceWare drivers since the 77.72 release. This lack of features will likely continue this way until at least Q1 of 2006 as the green developer's last release occurred a week ago with the introduction of the 1.0-8174 drivers. On the positive side, if you had read our previous 8174 article, Scalable Link Interface (SLI) support has finally been appended to the Rel80 drivers in addition to GeForce 6100/6150 support and various other enhancements. Moving onto the hardware itself, the 7800GT packs in over 302 million transistors and uses an 110nm process along with many of the same features as what can be found in its G70 7800GTX sibling. However, distinguishing the GT from the GTX is 20 pixel pipelines rather than the two dozen and the vertex pipelines have dropped from eight to seven. In addition, the reference 7800GT is clocked at 400/1000MHz while the 7800GTX is specified to run at 430/1200MHz, while of course various manufacturers have designed cards to run stock at speeds higher than these values. Both of these cards also feature a 256-bit interface and 256MB of GDDR3 except for the new 7800GTX 512MB that doubles the video memory capacity. The memory bandwidth also drops from 38.4GB/s to 32.0GB/s on the 7800GT. One of the unprecedented moves by NVIDIA in the graphics industry has been the hard launches with the GeForce 7 series product availability on launch date and one of the board partners always to come through with the latest and greatest has been eVGA. As we had done with the 7800GTX part, today we are examining the penguin performance of the GeForce 7800GT by means of the eVGA e-GeForce 7800GT 256MB CO (256-P2-N517-AX). The eVGA 7800GT CO runs at a vicious 470/1100MHz, as opposed to the reference 400/1000MHz, and leading to 35.2GB/s of memory bandwidth. In addition, eVGA utilizes a copper heatsink for driving the heat away from the GPU and video memory that is a bit more distinguishable from the reference model. With the 7800GT being based upon the G70 GTX architecture that was launched 50 days prior to the arrival of GT variant, we will be comparing these two cards as well as a pair of GeForce 6 cards running in SLI and eVGA GeForce 6800GT 256MB.
Features:
NVIDIA GeForce 7800GT
· 470 MHz GPU
· 20 Pixel Pipelines
· 400 MHz RAMDAC
Memory
· 256 MB, 256 bit DDR3
· 1100 MHz (effective)
· 35.2 GB/s Memory Bandwidth
Interface
· PCI-E 16X
· DVI-I, DVI-I, VIVO
Resolution & Refresh
· 240 Hz Max Refresh Rate
· 2048 x 1536 x 32bit x 85 Hz Max Analog
· 2560 x 1600 and 1600 x 1200 Max Digital
Key Features
· Integrated HDTV Encoder
· High-Precision Graphics
· NVIDIA CineFX 4.0 Engine
· NVIDIA Intellisample 4.0 Technology
· Next-Generation Superscalar GPU Architecture
Other Features
· nView Multi-Display Technology
· PCI Express Certified
· NVIDIA SLI Technology
· NVIDIA PureVideo Technology
· High-Speed GDDR3 Memory Interface
· 256-Bit Memory Interface with Advanced Memory Control
· 128-Bit Studio-Precision Computation
· Full-Speed 32-Bit Color Precision
· Integrated TV Encoder
· Dual 400MHz RAMDACs
· Unified Driver Architecture (UDA)
· Microsoft DirectX 9.0 Shader Model 3.0 Support
· 64-Bit Floating Point Texture Filtering and Blending
· NVIDIA PureVideo\u2122 Technology
· OpenGL 2.0 Optimizations and Support
· NVIDIA UltraShadow II Technology
· Sinle Dual-Link TMDS Connector
Contents:
Identical to eVGA's past graphics card retail packaging, the e-GeForce 7800GT CO came housed inside of a plastic housing rather than an anti-static bag that a portion of other NVIDIA board partners continue to utilize. Not only is the plastic able to protect against any potentially fatal static but is also a better safeguard against any of the onboard components from being damaged during shipping. Outside of the plastic casing, two VGA to DVI dongles, one S-Video extension cable, one molex to PCI Express power adapter, VIVO cable, and a folder containing eVGA case stickers, installation CD with trial software, and user's guide are located. Some of NVIDIA's board partners include many more accessories and software with their retail products yet eVGA resists from bundling all of the additional parts that can often inflate the MSRP. For Linux users, the bundled software in a majority of the instances is completely useless due to a lack of an alternative OS port. Surrounding all of the contents is a colorful container displaying all of the features for the GeForce 7800GT CO as well as eVGA's extras such as a lifetime warranty and their exclusive step-up program by trading in their existing product in exchange for the newest and greatest card available at the time within 90 days of purchase.