Show Your Support: Did you know that you can get Phoronix Premium for under $4 per month? Try it today to view our site ad-free, multi-page articles on a single page, and more while the proceeds allow us to write more Linux hardware reviews. At the very least, please disable your ad-blocker.
2017 Linux Laptop Survey Results
The most popular laptop brand for Linux laptop users was Lenovo at 39.6%, Dell in second at 27.8%, ASUS in third at 16%, HP in fourth at 15%, and Apple and Acer were tied in fifth at 11.3%. Trailing the top five were Toshiba, Samsung, MSI, and then System76. System76 was the most popular dedicated Linux system provider but is only used by 2.1% of those responding.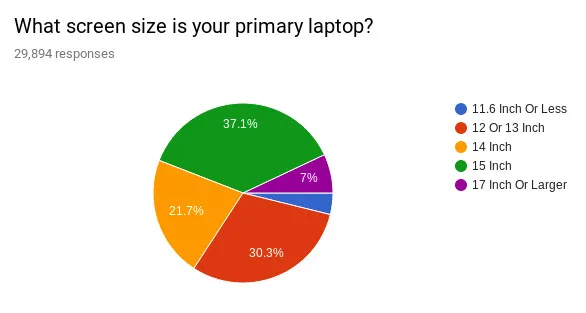 37.1% of those responding say their primary laptop has a 15 inch screen size while 30% had a 12~13 inch and 21.7% had a 14-inch laptop.
A majority of the Linux laptop users polled have Intel integrated graphics while 26% had NVIDIA graphics and just 8% had Radeon graphics.
In terms of Linux laptop compatibility challenges, the most common issues were with the display or GPU at 26.1% followed by WiFi/Bluetooth issues at 18.8% followed right behind at 18.7% with Linux laptop users encountering shorter battery life. UEFI/SecureBoot was the greatest challenge for 12.8% of users, multimedia/hot-key issues at 6.8% and touchpad problems at 6.6%.
The budget for the most recent Linux laptop purchases was $800 USD or less with 39.9% of those responding followed by $801 to $1000 at 17.1%.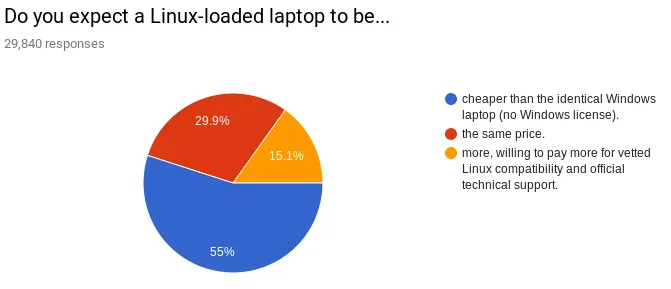 A slight majority at 55% expect a Linux-loaded laptop to be cheaper than an identical Windows laptop, notably because of needing no Windows license. Nearly 30% meanwhile expected a Linux laptop to cost the same as the same Windows laptop while only 15.1% were willing to pay more for this vetted Linux compatibility and official technical support.
I'm still going through the final free-form answers of "What would you like to see in a "dream Linux laptop?"" Popular answers from the feedback submitted come down to having better battery life as most popular followed by Coreboot/Libreboot support for freeing the system down to the firmware/BIOS. Also common were people wanting everything to "just work" with Linux.
Thanks to those that participated in the 2017 Linux Laptop Survey.
If you enjoyed this article consider joining Phoronix Premium to view this site ad-free, multi-page articles on a single page, and other benefits. PayPal tips are also graciously accepted. Thanks for your support.