Show Your Support: This site is primarily supported by advertisements. Ads are what have allowed this site to be maintained on a daily basis for the past 19+ years. We do our best to ensure only clean, relevant ads are shown, when any nasty ads are detected, we work to remove them ASAP. If you would like to view the site without ads while still supporting our work, please consider our ad-free Phoronix Premium.
12-Way RadeonSI OpenGL Comparison vs. NVIDIA On Ubuntu Linux
After posting a number of NVIDIA GPU Linux benchmarks this week using their latest drivers, here is similar treatment on the Radeon side using their newest open-source driver code.
For this article is a 12-way comparison of my available Radeon GCN GPUs compared to the NVIDIA GeForce 900/1000 series. All of the Radeon tests were done with their newest driver stack of Linux 4.12 Git + Mesa 17.2-dev built against the LLVM 5.0 SVN AMDGPU back-end via the Padoka PPA on Ubuntu 17.04. I'm also going to be doing similar R600g fresh benchmarks in celebration of Phoronix's 13th birthday, those results will be coming out in the next few days for this much larger Radeon comparison going back a number of generations on the open-source driver.
The Radeon GCN GPUs I had available for testing that were within my possession and not busy in any other test systems included:
- Radeon HD 7950
- Radeon R7 260X
- Radeon R9 270X
- Radeon R9 285
- Radeon R9 290
- Radeon R7 370
- Radeon RX 460
- Radeon RX 480
- Radeon RX 550
- Radeon RX 560
- Radeon RX 580
- Radeon R9 Fury
Again, all the Radeon tests were done with Mesa 17.2-dev + Linux 4.12. This was compared to my available GeForce 900/1000 series hardware for reference:
- GeForce GTX 950
- GeForce GTX 960
- GeForce GTX 970
- GeForce GTX 980
- GeForce GTX 980 Ti
- GeForce GT 1030
- GeForce GTX 1050
- GeForce GTX 1050 Ti
- GeForce GTX 1060
- GeForce GTX 1070
- GeForce GTX 1080
- GeForce GTX 1080 Ti
The NVIDIA tests done with the 381.22 driver on the same system. For this comparison we are just looking at the OpenGL performance but a fresh Vulkan comparison is also in the works.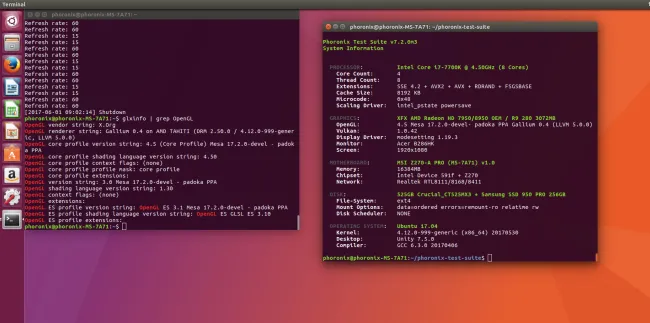 During the testing process, the AC system power consumption was also monitored using a WattsUp Pro interfacing with the Phoronix Test Suite for being able to generate performance-per-Watt metrics.
As usual, if you enjoy these kinds of Linux benchmarks that you can't find elsewhere, consider joining Phoronix Premium. We're also running a big discount on our premium service for the next week in marking Phoronix.com turning 13 years old.