Show Your Support: Did you know that you can get Phoronix Premium for under $4 per month? Try it today to view our site ad-free, multi-page articles on a single page, and more while the proceeds allow us to write more Linux hardware reviews. At the very least, please disable your ad-blocker.
VirtIO Video Driver Coming Together For The Mainline Linux Kernel
VirtIO-Video is a VirtIO-based video driver for a virtual V4L2 streaming device with input/output buffers for sharing of video devices with guests. VirtIO Video has existed for a while now but it looks like it could be getting close to upstreaming in the Linux kernel.
This 2018 presentation
(PDF) by OpenSynergy outlines VirtIO-Video for handling video streaming devices like video cameras, stream capturing, and other functionality within the context of virtualized guests. VirtIO-Video still supports hardware video acceleration of the host system and this virtual driver is basically about handling of input/output buffers of video streams.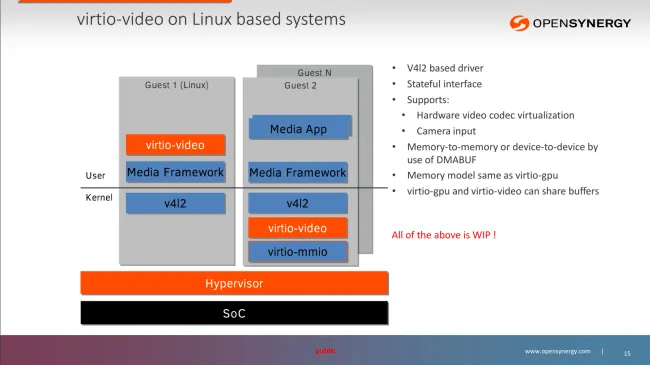 Back in 2018 the VirtIO-Video driver was an early work-in-progress but sent out last month were
the latest VirtIO Video V4L2 driver patches
for possible mainlining in Linux 5.7 or later.
Google appears interested in VirtIO-Video in the context of their Chromebook application support. One of the Google developers on Wednesday sent out
a patch
supporting VirtIO objects within the virtio-video driver. This allows using exported VirtIO objects as video buffers that were allocated by other VirtIO devices such as the VirtIO-GPU implementation.
So it's looking like in 2020 that VirtIO-Video could finally be coming together for the mainline Linux kernel.