Canonical Just Made It Even Easier To Benchmark Ubuntu Linux In The Cloud
As some more exciting open-source benchmarking news this week besides
the release of Phoronix Test Suite 5.6
and
The New Place Where Linux And Other Open-Source Code Is Constantly Being Benchmarked
(a.k.a. the new ~50 system upstream Linux benchmarking test farm complete with a bar), the barrier to entry for benchmarking Ubuntu in the Cloud is now even lower. It's becoming rather trivial to run Ubuntu Cloud benchmarks.

The New Phoronix Upstream Linux Benchmarking Test Farm.
Canonical has switched to using the
Phoronix Test Suite
for doing their cloud benchmarking of Ubuntu. While it's already easy to deploy the Phoronix Test Suite on almost any distribution/OS and on bare metal or in the cloud, some of their developers have been working on
a PTS JuJu charm
so it becomes even easier to run PTS on Ubuntu in the Cloud whether it be Amazon AWS, Microsoft Azure, or any other cloud where Ubuntu is present. For those out of the loop,
JuJu
is Ubuntu's "service orchestration tool" to build up cloud environments with minimal work.
They've contributed the JuJu charm upstream (thanks!) so now it's in the Phoronix Test Suite, though more improvements are planned in the coming days.
You can get it in Git
while it will be part of the Phoronix Test Suite 5.8 release next quarter and hopefully full of more improvements by then!
Right now it appears to be fairly simple and extracts out the results, though should be fairly straightforward to adapt for those that wish to upload the results directly to
OpenBenchmarking.org
or if you wish to control all of the benchmarks dynamically on a scheduled manner, etc, using our
Phoromatic
test orchestration UI from a centralized location. While Phoromatic is most often used for controlling large farms/clusters of systems for benchmarking, there's nothing preventing it from being used in the cloud for centralized result management, triggering of new tests, etc.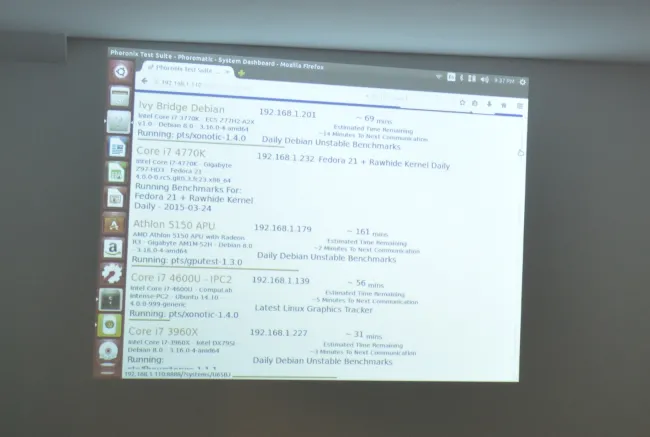 The Phoromatic Dashboard For Real-Time Benchmarking Status From Inside Our Farm.
The Phoronix Test Suite has
hundreds of available tests
(with new tests being trivial to add!) and is routinely used from
cloud benchmarking in a research/academia setting
to PTS powering
cloud comparison services like CloudHarmony
to
executive cloud performance comparisons
and many other interesting use-cases across the board over the many years of the Phoronix Test Suite driving open-source, automated benchmarking.
You can learn more about the automated benchmark capabilities for any environment via the
PTS documentation
and
Phoromatic documentation
or
Phoronix-Test-Suite.com
and
Phoromatic.com
. Commercial support and custom engineering services are available by
contacting us
. Our public upstream tracker from the new farm will soon be public at
LinuxBenchmarking.com
.
It's great to see yet another company using more Phoronix Test Suite for open-source, automated benchmarking, and making it easier to benchmark in new ways -- now deployable via JuJu.