Trying Out The FreeBSD-Powered TrueOS With Its Custom Qt Desktop
While I've been running PC-BSD on some systems for years I hadn't tried out any of its rolling-release FreeBSD 11.0-based spins under the new TrueOS brand nor had I tried out the project's Qt-based Lumina Desktop Environment since it reached 1.0. That changed today with trying out the latest weekly spin of TrueOS x64.
TrueOS is
PC-BSD's new unified brand
and in addition to the changeover happening for the FreeBSD 11.0 milestone, some other changes TrueOS is carrying on top of FreeBSD 11 includes
using LibreSSL, making use of Linux 4.7 DRM driver support, and more
.
While I've tried out FreeBSD 11.0 test releases, I hadn't tried out anything under the TrueOS desktop variety until firing it up in order to run some fresh BSD comparison benchmarks this week.
The TrueOS desktop installer is basically the same as from the PC-BSD days, just re-branded. Still one of the easiest BSD graphical installers I've dealt with and makes it a breeze for setting up a FreeBSD-on-ZFS system by default.
TrueOS makes use of its Qt5-based
Lumina Desktop
. Lumina recently reached version 1.0 and its looking (and working) much better than when I tried it many months prior, but at this stage, not sure I like it better than PC-BSD with KDE... We'll see how it evolves. It was a bit annoying with Lumina's file manager not having FTP support built-in and just various other paper cuts of the desktop during my encounters with it today.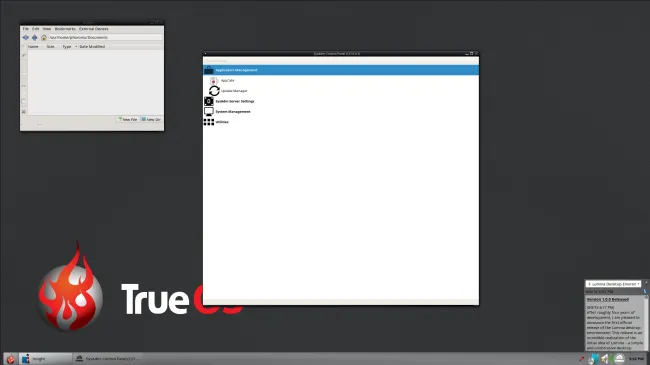 TrueOS has the same system administration control panel as previously, AppCafe, and other applications common to long-time PC-BSD users.
QupZilla is the default web browser choice of TrueOS... Obviously I am not a fan of this Qt WebEngine project with its use of ad-blocker by default.
Trojita is the default Qt email client and VLC is also shipped by default on TrueOS.
QTerminal is present on the system plus other basics while most other open-source software can be installed via
pkg
.
Working on something along the lines of a TrueOS vs. DragonFlyBSD vs. OpenBSD (and maybe NetBSD too?) benchmark comparison and will have those results to share in the days ahead.