Show Your Support: Did you know that the hundreds of articles written on Phoronix each month are mostly authored by one individual? Phoronix.com doesn't have a whole news room with unlimited resources and relies upon people reading our content without blocking ads and alternatively by people subscribing to Phoronix Premium for our ad-free service with other extra features.
The New Linux Performance Test Lab Is Already Being Expanded
It was just last month that
our new, large-scale test farm was completed
while already it's being expanded... Another 42U rack is being added to allow for more systems to go through rigorous benchmarking via the
Phoronix Test Suite
's
Phoromatic
.
This week another
StarTech 42U rack cabinet
was picked up to provide more space for benchmarking systems via the
LinuxBenchmarking.com
initiative and further stressing our commercial-grade, open-source Phoronix Test Suite / Phoromatic / OpenBenchmarking.org software.
This is now the fourth 42U rack in the new farm...
A few more systems are being added to the already large collection of systems carrying out daily, upstream benchmarking of the Linux kernel, compilers, and more. After finding some more parts around, there's some more Sandy/Ivy Bridge systems, two more AMD FX systems, and even an older dual-socket AMD Barcelona server being assembled. They'll all be online in the next few days.
With the new server rack, there's also a number of laptops being commissioned from older ThinkPads to a MacBook Pro to ASUS Zenbook ultrabooks. These laptops/ultrabooks are running fine with their lids closed and for proper spacing I adapted them to a
Rolodex Mesh Stacking Organizer
. It's a nice $12 way to organize the laptops and ensure adequate spacing.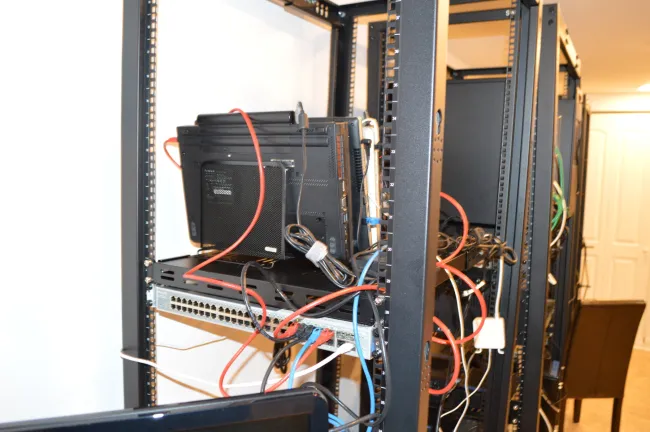 All of the data that's being generated constantly -- and having been for several months going back to the former test farm -- will become public soon now that the Phoronix Media web hosting infrastructure down in Florida is in the process of being upgraded.
Various other modifications and additions are still happening in this new benchmarking environment.
Some of the mini systems are now running on the bar countertop to free up more room in the racks and since the two walls are each on a different circuit, to try to even out the electrical load.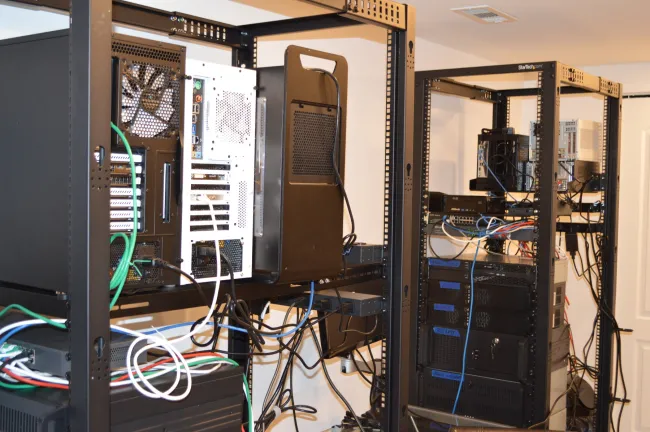 For more details, if you missed it, checkout last month's
Turning A Basement Into A Big Linux Server Room
article.