Steam's Recent Linux Changes Have Been Promoted To Stable
At the beginning of 2017 Valve released
a Steam client beta with noteworthy Linux improvements
. With today's Steam stable client update, all of those changes are included.
The big winner with this stable client update is improved interaction between the Steam runtime and host distribution libraries. This should let those using open-source graphics drivers on modern distributions work nicely with Steam without needing to remove any files or set extra environment variables. The old behavior can be restored though for older Linux distributions or if encountering any problems.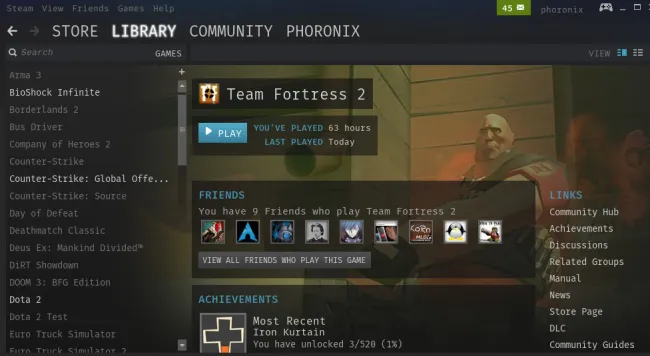 This Steam client update also unifies the Linux client's close-to-tray behavior to match other platforms, idle detection is now supported on Linux, various Steam fixes, the Vulkan loader in the Steam run-time now enables Xlib support, and the libxcb in the runtime has a fix for DRI3-related crashes.
Also found in today's stable update are a number of controller improvements, support for the Emio PS4 Elite controller, Xbox controller rumble support, support for using the overlay keyboard for games that have launchers when in the Steam Big Picture mode, and various other improvements.
Linux gamers that ride on the Steam stable client series (rather than beta) can find out about these new changes via
the SteamPowered.com announcement
.