Show Your Support: Have you heard of Phoronix Premium? It's what complements advertisements on this site for our premium ad-free service. For less than $4 USD per month, you can help support our site while the funds generated allow us to keep doing Linux hardware reviews, performance benchmarking, maintain our community forums, and much more.
Btrfs RAID Testing Begins With Linux 4.0
With
Btrfs recently landing RAID 5/6 improvements
and other enhancements, I've been working on some fresh Btrfs RAID benchmarks using the
Linux 4.0 kernel
.
This time around I'm doing the
Btrfs RAID
benchmarks on four traditional HDDs (though separately also been working on
Linux RAID tests on a 6 SAS drive server
). For this testing I picked up for
WD Green 1TB 3.5-inch, SATA 6Gb/s, 64MB Cache WD10EZRX drives
. At Amazon they cost only $52 USD a piece and should be interesting to test in a four-disk RAID array.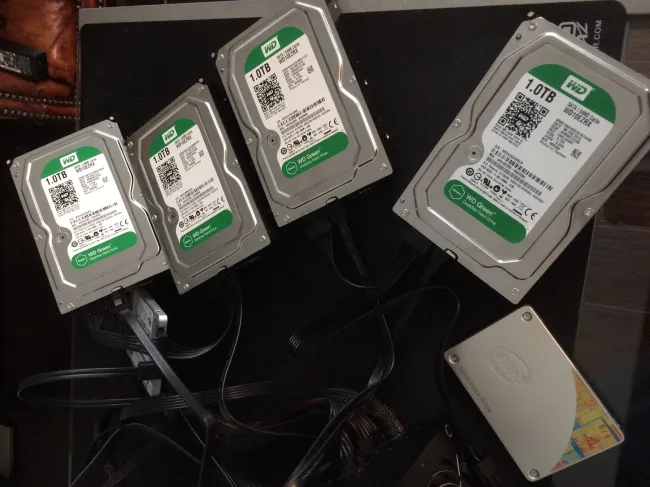 Before the end of the month I didn't have the time yet to do the four-disk RAID 0/1/5/6 benchmarks on Btrfs with Linux 4.0, but thus far have done the RAID 0/1 tests on two disks. If you're curious about seeing those dual disk results of Btrfs RAID on Linux 4.0, I've uploaded the initial data to
OpenBenchmarking.org
.
Head on over to this OpenBenchmarking.org result file
if you want a preview of these numbers of Btrfs on a single Western Digital HDD, then using two of the drives in RAID 0 and RAID 1. Stay tuned for the four-disk RAID results in the days ahead.
If you missed it last year, you might be interested in the older results of
four SSD tests of Btrfs RAID 0/1/5/6/10
and
Linux RAID tests of many file-systems
.