Open Lunchbox: Yet Another Open-Source Laptop Attempt
Open Lunchbox is the latest project attempting to do an open-source laptop design. Open Lunchbox is trying to do their laptop project in a modular, open hardware design.
How Open Lunchbox claims to be different from the other modular computers and laptop projects that claim to be open-source friendly is that "Open Lunchbox will the first open source modular laptop that is powerful enough for everyday use...The problems with other so called open laptop projects have been either not being x86, not being powerful enough to use as a laptop, not being open or not being an actual laptop."
Open Lunchbox claims they'll open up all the design and fabrication files, make all the Linux drivers open-source, utilize Coreboot, be an actual laptop of a modular design, be low-cost without sacrificing quality and reliability, flexible, and the design files can be used to build modular laptops.
The hardware aim is for a dual or quad-core AMD SoC, standard size CPU modules, ThinkPad T60-type keyboards, 12 / 15 / 17 inch dimensions, high-capacity LiOn batteries, multi-display support, USB 2.0 + USB 3.0 connectivity, WiFi, Expresscard, and many other hardware options.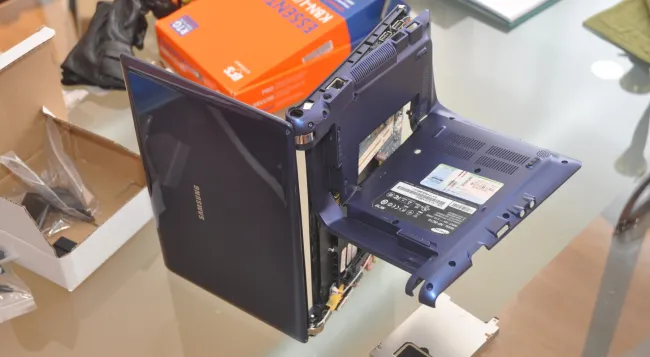 Before getting too excited, Open Lunchbox falls into the category of many other open-source hardware projects in that they don't even have any designs right now, no manufacturing lines established, no commitments on pricing, etc. They appear to have little more than just a basic Wordpress site and forums to discuss their ambitions. At least though they don't appear to be going straight for crowd-funding with hopes of magically pulling everything together as they roll.
It's also not clear how they plan to manage this modular x86 laptop to be low-cost while not sacrificing quality and reliability, when without a huge number of pre-orders they would be tough to do anything -- don't forget about
the failed ~$750 open-source graphics card
and other projects that failed to deliver at a reasonable cost or even materialize due to the complexities of an open-source, community-based hardware project. Open Lunchbox is just not planning for one product but a range of laptops with different size displays, etc.
Those wanting to learn a bit more can visit
OpenLunchBox.com
but their site seems to raise more questions than answers. Their site also doesn't explain who is even behind the project with their backgrounds. Open Lunchbox also talks of an open hardware cellphone that's open-source, uses CyanogenMod, etc, but that too just raises more questions and concerns -- let's not forget about
OpenMoko
and the rest.