Show Your Support: This site is primarily supported by advertisements. Ads are what have allowed this site to be maintained on a daily basis for the past 18+ years. We do our best to ensure only clean, relevant ads are shown, when any nasty ads are detected, we work to remove them ASAP. If you would like to view the site without ads while still supporting our work, please consider our ad-free Phoronix Premium.
Intel's Xeon Phi Is Being Sold For An Insanely Low Price Right Now
There's a crazy discount right now for those wishing to buy an Intel
Xeon Phi
MIC card that's equipped with 57 cores running at 1.1GHz, 8GB of onboard memory, passively cooled, and over 1 TeraFLOP of double-precision compute power. All of this on a PCI Express card for less than... $200 USD!
A Phoronix reader pointed out today that Intel's been running an insane special developer promotion on the Xeon Phi 31S1P Coprocessor since last month. These Intel MIC cards normally retail for around $1695 USD but for a limited time are now selling for just $185~195 USD! There's many Internet vendors now offering the Xeon Phi 31S1P at this extremely low price. The sale quietly got underway last month and the best I've been able to determine so far is that it's expected to last until 31 December. This looks to be brought on by Intel for trying to encourage more developers to play with their many integrated core architecture.
The Xeon Phi 31S1P is certainly an interesting beast with being a passively-cooled PCI Express card with 57 cores at 1.1GHz and 8GB of RAM... The TDP of the board is 270 Watts and the peak double precision power comes in at 1,003 GFLOPs. The other Xeon Phi models aren't seeing such hefty discounts from Intel.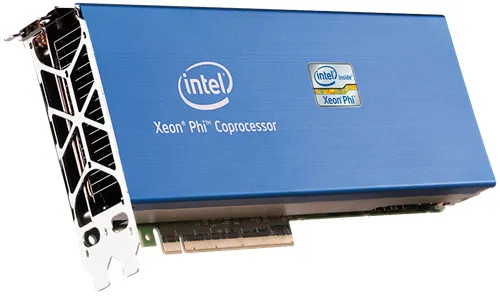 The Xeon Phi is
Linux-friendly
and you'll be best served using Red Hat Enterprise Linux or one of its derivatives. The Xeon Phi has also been reported to work on Ubuntu Linux and other distributions when rebuilding packages. For quite some time now most of the Xeon Phi Linux enablement has been working its way upstream
within the kernel
and
GCC
. When finding out about this deal I immediately put a Xeon Phi 31S1P in my shopping basket from one of the participating dealers in order to run some benchmarks on it, but with not having clear idea how well the Xeon Phi would work with OpenACC/OpenMP/MPI workloads, etc, for our common computational benchmarks or other computational workloads would benefit from the Intel MIC, I've decided to hold off for now... If prospects look good later (if anyone has anymore information I haven't come across, please let me know) that it would be interesting to benchmark for a future article and the deal is still going on, I'll certainly grab one.
Those wishing to get on this Xeon Phi deal can find the special promotion listed at
software.intel.com
.
Amazon.com by Intel
even has the co-processor selling for just $142 (plus $12 shipping) though they seem to be now out of stock until early December.