Intel Broadwell NUCs Announced, To Begin Shipping Next Month
Along with many other announcements out of Intel this week for the Consumer Electronic Show, Intel officially lifted the lid on their new
Broadwell
NUCs!
Ever since the
Bay Trail NUCs
, I've been quite fond of the Next Unit of Computing kits. The introduction of NUCs with Broadwell 5th-generation Core processors is now no different and I'm very much looking forward to seeing these new products that will begin to ship in February and March.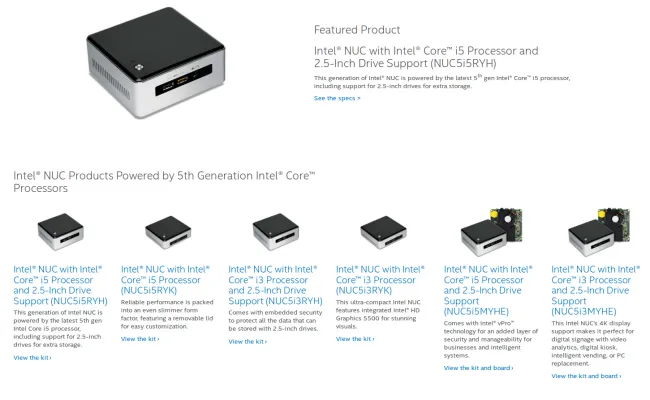 Intel's NUC line-up can be found via
this Intel.com page
. The line-up includes Broadwell NUCs with Core i3 and Core i5 processor variants and versions for 2.5-inch SSD/HDD disk drives as well as M.2 SSD cards. All of the models are interesting in their own right.
Among the new models are the NUC5i5RYH, NUC5i5RYK, NUC5i3RYH, NUC5i3RYK, NUC5i5MYHE, and NUC5i3MYHE. Some of these Broadwell NUCs will begin shipping in February while other models will see the light of day in March.
Even if Intel doesn't send over any review samples of the new NUCs, I'll be picking up at least two or three of them for Linux benchmarking and other Linux testing from these low-power, small form factor systems with Intel's exciting new Broadwell CPUs.