Show Your Support: Did you know that the hundreds of articles written on Phoronix each month are mostly authored by one individual? Phoronix.com doesn't have a whole news room with unlimited resources and relies upon people reading our content without blocking ads and alternatively by people subscribing to Phoronix Premium for our ad-free service with other extra features.
The Top Linux Graphics Articles Of 2014: Testing Lots Of GPUs
Beyond the thousands of Phoronix news article this year with hundreds of them being concerned about Linux graphics as outlined already in various end-of-year top ten lists, published thus far this year (with another one or two still likely coming today) on Phoronix were 345 featured-length, multi-page articles to complement the shorter open-source Linux news pieces. Of the 345 articles, 132 of them were Linux graphics card reviews and other articles concerned about GPUs under Linux and/or Linux graphics drivers.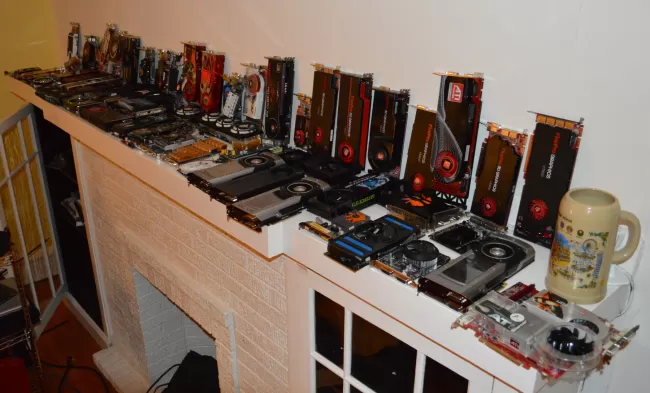 Yours truly wrote the 132 full-length graphics articles this year (along with a majority of the hundreds of other articles) and nearly all of the news stories. Of course, graphics is one of the main pillars of Phoronix. With the big Linux graphics focus, you're probably wondering the most popular articles this year so below were the twelve most popular articles.
Of course, if you like the Phoronix content be sure to follow us via
Facebook
,
Twitter
, and/or
Google+
. You can also do a lot to ensure great Linux content on Phoronix.com in 2015 by
subscribing to Phoronix Premium
or making your
year-end tip
.
Testing 60+ Intel/AMD/NVIDIA GPUs On Linux With Open-Source Drivers
With Thursday marking the ten year anniversary of launching Phoronix.com and also the six-year anniversary since the public 1.0 debut of the Phoronix Test Suite, there's a lot of interesting articles that I've been working on to celebrate these two milestones. For your viewing pleasure today is easily the largest graphics processor comparison that's ever happened at Phoronix... I've tested over 60 GPUs from the Intel HD Graphics, AMD Radeon, AMD FirePro, and NVIDIA GeForce series to see how their performance is when using the very latest open-source Linux graphics drivers on Ubuntu.
25-Way Open-Source Linux Graphics Card Comparison
As alluded to in days earlier after finding major open-source Radeon driver improvements -- including the newer RadeonSI Gallium3D driver -- I've been conducting a fresh graphics card comparison spanning many graphics processors and looking at the latest open-source driver performance on the Intel, NVIDIA, and Radeon fronts under Ubuntu Linux. In this article is a 25-way Intel Haswell HD Graphics vs. AMD Radeon vs. NVIDIA GeForce graphics comparison from Ubuntu 13.10 with the upgraded Linux 3.13 kernel and Mesa 10.1 development driver code to provide a very bleeding edge look at what the open-source drivers have to offer the Linux desktop users.
Sapphire Radeon R7 260X: A Great Linux Graphics Card
For those in the market for an affordable mid-range graphics card that will run just fine on Ubuntu and other Linux distributions while having the choice between the open-source RadeonSI Gallium3D driver and the binary but high-performance Catalyst driver, meet the Sapphire Radeon R7 260X. Our Linux hardware review for today is looking at the Sapphire 100366L Radeon R7 260X 2GB graphics card.
NVIDIA GeForce GTX 750 Ti "Maxwell"
This morning NVIDIA is unveiling their "Maxwell" family of graphics processors that succeed Kepler. With some past generations of NVIDIA hardware we have had to wait a while as Linux users to see how they would work and perform under non-Windows platforms, but I can tell you this morning that the brand new GeForce GTX 750 Ti is already running great on Linux and is delivering terrific results as a sub-$200 mid-range NVIDIA graphics card. Here's the first Ubuntu Linux review of the GeForce GTX 750 Ti Maxwell graphics card.
35-Way NVIDIA/AMD Proprietary Linux Graphics Driver Comparison
Last week with Phoronix turning ten years old I celebrated by testing 65 different GPUs with the open-source Linux graphics drivers from Intel, AMD, and Nouveau. I also followed-up with power efficiency and thermal benchmarks from all of the graphics cards that played nicely on the latest open-source drivers. Today I'm following up with the next round of testing by checking out the proprietary NVIDIA and AMD Catalyst graphics drivers under Linux with 35 different graphics cards.
24-Way AMD Radeon vs. NVIDIA GeForce Linux Graphics Card Comparison
After this weekend carrying out a 25-way open-source Linux graphics driver comparison featuring AMD Radeon, Intel HD Graphics, and NVIDIA GeForce hardware, the tables have now turned to look at nearly the same assortment of hardware but when using the high-performance, proprietary Linux graphics drivers. We've also upped the demanding OpenGL benchmarks used -- including the Source Engine -- as we see how the AMD and NVIDIA binary graphics drivers are doing to start 2014.
Nouveau Re-Clocking Is Way Faster, Shows Much Progress For Open-Source NVIDIA
Earlier this week on Phoronix we covered the steps to trying out Nouveau re-clocking with Linux 3.16, assuming you're running a supported NVIDIA GPU that can currently be statically re-clocked using this reverse-engineered graphics driver. While the support is still experimental and isn't intended for end-users, here are some fresh benchmarks of the Nouveau driver DRM code for Linux 3.16 when re-clocked.
High-End NVIDIA GeForce vs. AMD Radeon Linux Gaming Comparison
After last week carrying out separate NVIDIA Windows vs. Linux OpenGL benchmarks and similar AMD Radeon Windows 8.1 vs. Ubuntu 14.04 tests, today we are pitting the GeForce and Radeon graphics cards against each other on Ubuntu Linux with the very latest drivers to see how their performance compares now head-on. With this testing we have some Steam games plus are also monitoring the power consumption, performance-per-Watt, and GPU thermal metrics.
NVIDIA GeForce Power Efficiency: From The 6600GT To The GTX 750 Ti
When NVIDIA was doing their press briefings for their new Maxwell architecture they frequently talked up its power efficiency and how the power efficiency is four times greater than where it was four years ago with Fermi... But how is Maxwell and NVIDIA's power efficiency compared to hardware from ten years ago? In this article we have done fresh benchmarks -- with power consumption, thermal, and performance-per-Watt measurements -- of NVIDIA's mid-range graphics cards from the week-old GeForce GTX 750 Ti to as far back as the GeForce 6600GT (NV43) graphics card from 2004.
The Linux 3.13 Kernel Is A Must-Have For AMD RadeonSI Users
The Linux 3.13 kernel that will be released in the very near future is very worth the upgrade if you are a RadeonSI user -- in particular, the Radeon HD 7000 series GPUs and newer on the Gallium3D Linux graphics driver -- but other open-source graphics driver users as well may also see nice improvements in the new kernel release. Here's some benchmarks showing off the gains found with the Linux 3.13 kernel for Radeon HD and R9 graphics cards.
eVGA GeForce GTX 750 "Maxwell" On Ubuntu Linux
After last week delivering the first NVIDIA GeForce GTX 750 Ti "Maxwell" Linux review, today at Phoronix we're looking at the GeForce GTX 750 (non-Ti) under Ubuntu Linux using an eVGA GTX 750 1GB model.
AMD Kaveri's Open Radeon Performance Now Multiple Times Faster
Earlier this month I shared some basic OpenGL benchmarks between AMD's Kaveri APU on the Catalyst driver and the open-source RadeonSI Gallium3D driver. Now that more time has passed I'm back with another round of Linux graphics driver testing on the AMD A10-7850K, this time looking at the impact when forcing Dynamic Power Management and toggling color tiling for maximum performance.