Chromium Browser Going Through Growing Pains In Ubuntu 14.04
Google's open-source Chromium browser is in a bit of a bad shape for this week's release of Ubuntu 14.04 LTS.
Chromium 34 landed in Ubuntu 14.04 a short time ago and it's in the process of breaking NPAPI plug-in support for handling the Adobe Flash player plug-in and other common web plug-ins. Chad Miller, the Chromium package maintainer for Ubuntu and Canonical employee,
wrote
, "Chromium-browser in 14.04 is stuck in a bad position. First, upstream is killing* the old Netscape Plugin API as they rip out Gtk2 libraries and move to their internal toolkit, "Aura". NPAPI is still popular among poorly-updated plugins like Adobe's Flash*. Upstream hopes to have all of Gtk2 (and therefore NPAPI) removed by next major release, which is a few weeks away. Chromium source churns greatly, and maintaining distro patches to keep Gtk2+NPAPI isn't maintainable. So, some plugins are going to break. I picked the start of the Trusty's release as the time to have a kind of regression, instead of one month in as part of a security update. It sucks, but I think it's the better choice. The new internal toolkit has a few bugs, which you may see. I'm fixing and backporting fixes and I expect to see a week or two of ugliness, before it stabilizes to a great browser again."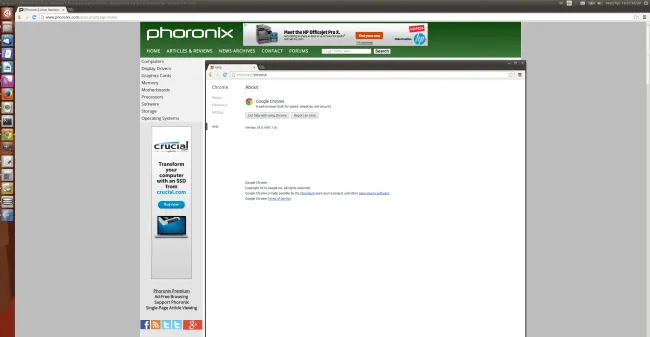 So with Google developers right now introducing their Aura support on Linux for Chrome/Chromium and dropping the NPAPI interface, support for using old plug-ins is being lost and overall this initial chromium-browser package for Ubuntu 14.04 LTS might be a bit rough. Updates, however, will be coming down through the Trusty archive. For those needing Flash support in Chromium, there is the
pepperflashplugin-nonfree
package within multiverse that is Chrome's Pepper-based Flash Player. Of course, if installing the official Google Chrome browser releases, you're already in great shape.