Show Your Support: This site is primarily supported by advertisements. Ads are what have allowed this site to be maintained on a daily basis for the past 18+ years. We do our best to ensure only clean, relevant ads are shown, when any nasty ads are detected, we work to remove them ASAP. If you would like to view the site without ads while still supporting our work, please consider our ad-free Phoronix Premium.
NVIDIA GeForce 700 Series On Linux Run Excellent
For the past week now I have been running
Linux benchmarks on a lot of new NVIDIA GPUs
, including the GeForce GTX 760, GTX 770, GTX 780 Ti, and GTX TITAN. These graphics cards with their Linux reviews coming out soon have been running top-notch with the binary Linux driver and running a heck of a lot faster than
the slow-performing Radeon R9 290 with the current Catalyst Linux driver
.
This week I put out my article on the
AMD Radeon R9 290 Linux review
. While I had high hopes for this AMD "Hawaii" GPU at $399, the Linux performance with the current Catalyst Linux driver is utter garbage. The Linux OpenGL performance was bad and the GeForce GTX 680 was outperforming the R9 290 compared to the R9 290 under Windows being competitive with the GeForce GTX 780.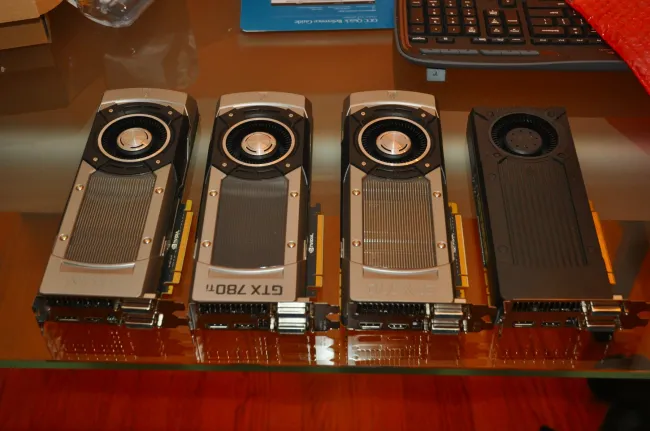 Fortunately, the new Linux benchmarking of the four NVIDIA GeForce 700 series graphics cards has been going a heck of a lot better. I expect to have one or two Linux hardware reviews on the cards out before the week's end, but included with this article is some early GTX 770 and GTX 780 Ti benchmark results from Ubuntu Linux with the binary driver.
The GeForce GTX 770 -- which sells for just over $300 USD -- with the current NVIDIA Linux driver delivers significantly better OpenGL performance than the $400+ brand new AMD Radeon R9 290 with Catalyst on Linux. The GTX 780 Ti is a beauty and the GTX TITAN numbers to be published are also compelling. There's been no problems at all with the NVIDIA 331.20 binary Linux graphics driver.
So stay tuned for all those results in full that will feature the new graphics cards plus the usual assortment of other AMD Radeon and NVIDIA GeForce graphics cards under Linux. Following those reviews will be some updated Linux OpenCL/GPGPU benchmark articles, Windows 8.1 vs. Ubuntu 13.10 performance with the new high-end AMD / NVIDIA GPU hardware, and other articles. Your feedback on new Linux test requests can be directed to the
forums
or
@MichaelLarabel on Twitter
. If you really appreciate all of this testing done exclusively by myself at Phoronix, please consider
subscribing to Phoronix Premium
or
making a PayPal tip
.
For those wanting the early NVIDIA GeForce GTX 770 / GTX 780 Ti teaser benchmarks on Ubuntu 13.10 with the Linux 3.12 kernel and NVIDIA 331.20 graphics driver, the preview results can be found in
this OpenBenchmarking.org result file
. By installing the open-source
Phoronix Test Suite
program on your Linux system, you can easily see how your system's own performance compares to these numbers. Simply running
phoronix-test-suite benchmark 1311202-SO-GEFORCE5180
will download all the tests used, set them up in an identical manner, proceed to run them in a fully automated and reproducible manner, and then finally render your own system's results next to these GTX 770/780 numbers (and parse all the system details, etc) in a side-by-side manner. It's great, try it out!