Happy Holidays! If you enjoy all the original Linux hardware reviews and open-source news content on Phoronix, consider joining Phoronix Premium this holiday season. For Black Friday / Cyber Monday, there is a cyber week special to go premium and enjoy an ad-free experience, native dark mode, and multi-page articles presented on a single page.
GNU Hurd Is Up To 344k Lines Of Code
While GNU Hurd has been around for years prior to the existence of the Linux kernel, Hurd is now up to only 344 thousand lines of code, but it's having a hard time getting much higher.
In running some year-end Git statistics on the Hurd source tree, Hurd is up to 344,059 lines of code across 1,734 files and its seen more than 11,108 commits from 43 authors. The Linux kernel meanwhile has more than fifteen million lines of code and many more authors and many times more commits.
Hurd's rate of development is down dramatically compared to the 90's. Back in the mid-90's there were 2000+ commits per year while in 2013 there were just 288 commits.
Hurd does see new commits almost daily, but there's very few contributors... Just a handful each month. Responsible for most of the work this year was Justus Winter with over 50% of the commits being from him followed by Samuel Thibault, Richard Braun, Miguel Figueiredo, Pino Toscano, and Thomas Schwinge. There were just eight active authors this year on Hurd compared to more than a dozen each of the past three years.
The file count hasn't seen much of an increase since the 90's.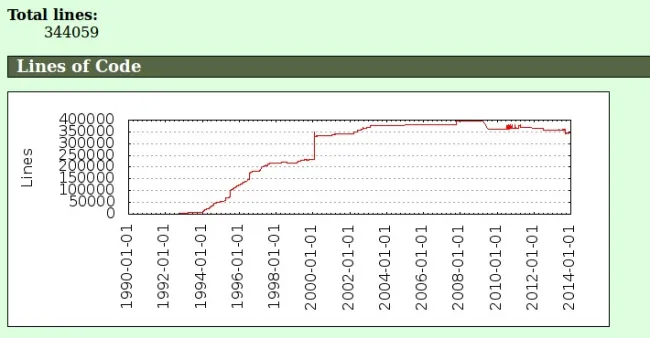 The line count for Hurd has also been mostly stable for more than the past decade.
Those wishing to learn more about GNU Hurd can visit its
GNU.org project site
. Those wanting to try out Hurd, one of the easiest ways to do so is by using the Debian GNU/Hurd derivative.